Chris Paul Shuts Down Reporter For Asking Devin Booker an Atrocious Question
Published 07/18/2021, 1:38 AM EDT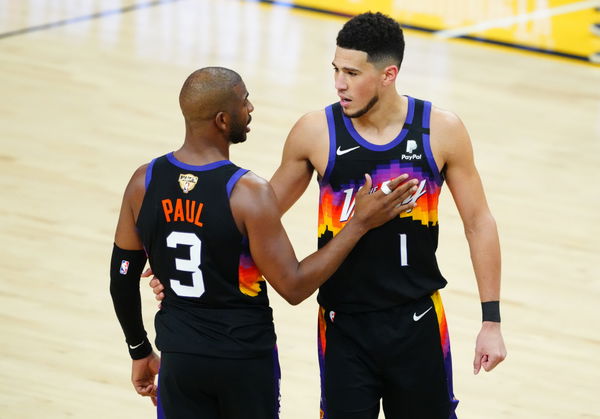 ---
---
The 'Big Three' for the Milwaukee Bucks came through for the most crucial Game 5 and landed them a 123-119 win over the Phoenix Suns. Now, they are on their way back home with hopes of winning a championship after Game 6. But let's not forget how tragic this will be for the Suns. They are also inches away from clinching their first franchise title. Although their game 5 loss was frustrating enough, a strange question during the post-game interview had Devin Booker and Chris Paul had them confused.
ADVERTISEMENT
Article continues below this ad
Devin Booker and Chris Paul utterly muddled
When the Milwaukee Bucks were down 2-0, everyone assumed that their title drought is far from over. But the NBA is a mysterious place where it doesn't take too long for tables to turn. Fortunately, Milwaukee came around to tie the series and it was 2-2 until Game 5.
ADVERTISEMENT
Article continues below this ad
While Devin Booker led the way for the Phoenix Suns with his game-high 40-point performance, the Bucks had their fantastic trio to rely on. Giannis Antetokounmpo, Khris Middleton, and Jrue Holiday alone put up 88 points, to seal this victory. They were staring at a 16-point deficit until the second half turned it around.
The Suns also tried to catch up in the last quarter, cutting the lead down to one basket as well. But the Bucks didn't lose their firm grip. After their disappointing loss, Booker and Paul faced the media for some questions but there was one that stood out and not in a good way.
Booker was asked, "This is obviously a very tough loss. Devin, how frustrated are you for Chris right now?" There was pin-drop silence until Chris whispered, "What?" and Booker couldn't help but request another question.
WATCH THIS STORY: Michael Jordan, Kevin Durant & Other NBA Players That Forced The League to Change Rules
Will the Point God's time come with the Phoenix Suns?
ADVERTISEMENT
Article continues below this ad
Chris Paul has on the receiving end of accusations of choking during crucial games. From Game 5 in 2015, against OKC where he had 20 turnovers that cost the LA Clippers their game and that series. A year later, they tanked their 3-1 lead against the Rockets too.
Some consider his injuries as a major factor. But truth be told, he has never been on a title favorite team. But after coming this far, if Paul doesn't end up with a championship, he is likely going to finish his career without one. Unless the Suns come up this big next season as well.
Of course, Booker is frustrated. But not just for Chris but because one more slip-up could cost them their franchise's history. And who knows when we'll see the Suns battling in the NBA Finals again.
ADVERTISEMENT
Article continues below this ad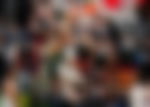 Trending Stories