CJ McCollum and Other Stars Rally Behind NBA TopShot: What Is It and Why Is It So Popular
Published 02/20/2021, 10:39 PM EST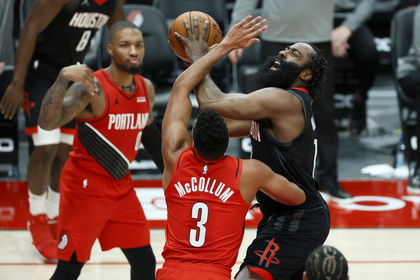 ---
---
As per a majority of observers, NBA is just a basketball league that organizes the event, makes a profit, pays its players, & satisfies stakeholders. However, very few acknowledge that it is also the most tech-savvy league in the world, hands down. As proof, take into consideration NBA Top Shot, the digital highlights marketplace that is backed by players like CJ McCollum.
ADVERTISEMENT
Article continues below this ad
The NBA Top Shot is on a boom, having generated $53.9 million in sales in the last week. It is a concept that is attracting the likes of NBA players, fans, and investors.
Before uncovering the players who are going crazy about this, let us understand this complex business in layman's terms.
ADVERTISEMENT
Article continues below this ad
What on earth is the NBA Top Shot?
What's the word with @nba_topshot !! How can I learn more about my moments?

I'm tryna learn the ways and figure this whole thing out!

— Damion Lee (@Dami0nLee) February 20, 2021
Everyone knows that the sports card market is humongous. In fact, NBA fans have obsessively collected rare sports cards for a century now.
For the uninitiated, Panini and Topps are two of the greatest sports card brands out there. However, the future of sports cards has the least to do with collecting them physically.
This is where the 1.5 years old NBA Top Shot comes into the picture. A joint venture between the NBA, NBAPA, and Dapper Labs, these so-called Top Shots are nothing but virtual trading sports cards that come as "packs" of NBA licensed video "moments".
Most importantly, these moments are NFTs (Non-Fungible Tokens) which make it non-interchangeable. To understand it better, consider Bitcoin, which is an interchangeable cryptocurrency that is the same for everyone. However, the Top Shot Moments uses the new-age Block-chain technology to create "tokens" that are unique and hence decentralized. 
The cards received an overwhelmingly positive response after their launch in October 2019. In the last 30 days alone, the website has sold virtual packs worth $106.3 million.
The sales included Zion Williamson and LeBron James' moments that sold for a whopping $100,000 each. 
Why is it getting so popular?
Just imagine that the NBA Top Shots releases a rare Anthony Edwards' poster dunk "moment" from the Timberwolves' game against the Raptors, and a fan purchases it. Now, these NFTs take minutes to sell, and then the buyers become the rare breed that own the limited edition.
These eternal NBA moments come in a limited quantity. Needless to say, the smaller the number, the more the value of the moments. 
So an owner can sell the moment after holding it for a while to see its demand. They can see the stats, the likes, and past sales to figure out the valuation and sell immediately. All this, with no worry of physically collecting and keeping the cards from getting lost. 
Who are the NBA Players like CJ McCollum who are backing it?
Well, the list is huge, and it is just getting bigger and better. Players like Bogdan Bogdanovic (owns 46 moments), Blazers' CJ McCollum, Josh Hart, Damion Lee, and many others have shown interest in this unchartered territory that is picking immense heat.
Obviously, the rookie moments and all those picture-perfect rarest of the rare moments will sell very expensive, but one can start (if lucky) with as low as a $9 purchase for a non-rare pack. Take a look at some players who own or want to own these moments.
Hello @nba_topshot . I want to learn more about these moments. Especially my moments lol. Hit MY DM so we can talk. I'm learning more about blockchain but still don't know much

— CJ McCollum (@CJMcCollum) February 20, 2021
ADVERTISEMENT
Article continues below this ad
Are you excited to make your first purchase or are you happy with your physical cards? Help us know in the comments.
ADVERTISEMENT
Article continues below this ad
Read Also – 'Playing Mortal Kombat': CJ McCollum in Awe of Damian Lillard's Stunning Performance