CJ McCollum Calls Out Giannis Antetokounmpo For Not Defending Kevin Durant in Game 5 Loss
Published 06/16/2021, 12:44 AM EDT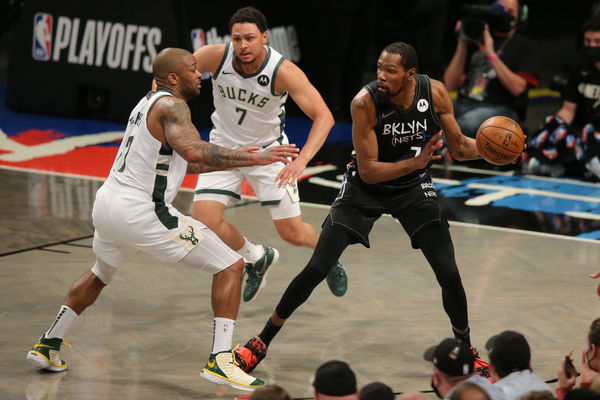 ---
---
The Milwaukee Bucks, who were trying to get rid of their tainted reputation because of their second-round playoff loss to the Miami Heat last season, might have to come back next season to make their case for title contenders. The Brooklyn Nets, or rather, Kevin Durant brutally put an end to the Bucks' momentum in Game 5. And if there is anyone that is being held accountable for this, it is Giannis Antetokounmpo.
ADVERTISEMENT
Article continues below this ad
The Bucks could not contain Kevin Durant
From giving up easy leads to not taking the right calls at the right time, the Bucks did almost everything to hand the win over to the Nets. Despite being ahead by 17 points, their offense crumbled down the stretch in the last quarter. Thanks to that, the Nets are one win away from making their first appearance in the Conference Finals since 2003.
ADVERTISEMENT
Article continues below this ad
Khris Middleton, Giannis, and Jrue Holiday had solid showings, but it wasn't at par with what KD was pulling off alone. Giannis ended the night with 34 points and 12 rebounds. Yet, Milwaukee was on the receiving end of the 114-108 loss because the Greek Freak failed to contain Durant.
Bruh first team all defense and ain't go check easy$ 🤔

— CJ McCollum (@CJMcCollum) June 16, 2021
They had entered the fourth quarter leading by 6 points. Even though they had the golden opportunity to push the Nets to the edge of elimination, the Milwaukee Bucks tanked it. Their defense had no answer for Durant's offensive prowess who ended the night with a 49-point performance. And CJ McCollum voiced his opinion and placed the blame on Giannis.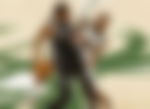 Is the defensive player of the year responsible?
McCollum wasn't the only one raising questions about the Bucks' defense on Durant. On 'Inside the NBA', Kenny Smith asked, "Why didn't the Defensive player of the year guard Kevin Durant down the stretch?"
The entire panel at the discussion was in a state of confusion as to why they were focusing on guarding Joe Harris in the corner when clearly it was KD who needed to be controlled.
ADVERTISEMENT
Article continues below this ad
Either the Bucks will have to fix this or let Durant drive them straight out of a title run this season. For now, the latter seems more likely because if James Harden starts playing with his true form, he and KD will be an unstoppable force. Right now, Milwaukee can still do some damage control and force a Game 7.
ADVERTISEMENT
Article continues below this ad
WATCH THIS STORY: How a Pre-NBA Kevin Durant Humiliated LeBron James