CJ McCollum Injury: What is the Blazers Star Suffering From? When is he Scheduled to Return?
Published 03/15/2021, 1:00 AM EDT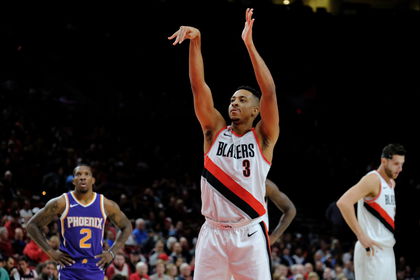 ---
---
Once again, the Portland Trail Blazers' season was defined by injuries. Both Jusuf Nurkic and CJ McCollum sustained back-to-back injuries and haven't returned to play since. Yet, the Blazers have fared pretty well with Damian Lillard leading them to the fifth spot in the Western Conference with a 22-16 record. But it looks like the worst might be over as McCollum has hinted that he is returning soon.
ADVERTISEMENT
Article continues below this ad
The good news the Portland Blazers need
The Blazers' shooting guard, CJ McCollum, last played against the Atlanta Hawks when he endured his injury. Clint Capela stepped on his left foot while going for a layup, and it ended up being a hairline fracture. Although it looks like the Blazers won't have to wait very long for him to return.
ADVERTISEMENT
Article continues below this ad
McCollum recently told 'The Athletic', "If I was a betting man, I would bet on next week, but I can't bet on sports."
He even revealed that he has at least stepped on the court for his workouts.
"Friday's workout went well; how I expected it to go. I'll be back soon, as long as everything continues to go the way it's been going."
CJ has a history of foot injuries, which makes him even more cautious in the way he handles his recovery.
"I'm coming off my third fracture. I have to be smart and patient. I needed to see how my foot would respond to contact. People assume you get cleared and just go back to playing, not realizing I couldn't run for seven weeks," he stated.
"Conditioning comes from playing. I can't just run on the treadmill or bike and simulate the force you put through your foot and body."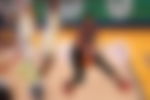 The Big Three: CJ McCollum, Damian Lillard, and Jusuf Nurkic
In both Nurkic and CJ's absence, Damian Lillard has kept the Blazers competitive in the West. Averaging 29.7 points and 8 assists per game, Lillard is also shooting 44.3% from the field and a whopping 93.3% from the free-throw line.
However, the team has missed McCollum's explosive contribution as a scorer. His return couldn't come at a better time as the Blazers enter the second half of the season and need a boost to climb further up in the West. With reports of Jusuf Nurkic also back to working out, it seems like his return won't take long either.
ADVERTISEMENT
Article continues below this ad
Will the Portland Trail Blazers become more deadly than they already are with this Big Three?
ADVERTISEMENT
Article continues below this ad
Read also- NBA Analyst Details Why Damian Lillard and CJ McCollum Will Never Be Champions Together