CJ McCollum Rates Himself as one of the 'Kings Of Midrange' Alongside Kevin Durant
Published 01/03/2021, 10:41 AM EST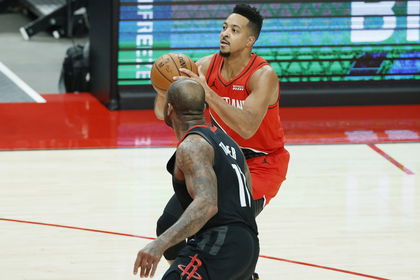 ---
---
The Portland Trail Blazers have largely benefited from the NBA Draft, as their team's two current superstars were selected as subsequent draft picks in 2012 and 2013. While Damian Lillard has evolved into one of the top five point guards in the league, CJ McCollum has his fair of stats and awards to show just how good he is! 
ADVERTISEMENT
Article continues below this ad
McCollum spent his first two years in Portland as a reserve and averaged in single digits, but he improved his game when the opportunity came, and it has been well sustained by the Ohio native. In fact, he's one of the best shooters when it comes to the mid-range game! 
Statistics rank CJ McCollum right alongside Kevin Durant and Kyrie Irving
ADVERTISEMENT
Article continues below this ad
The modern game demands versatility from an athlete, and one should be equipped with several bits of skills to get the points. Likewise, an elegant mid-range accuracy adds massive quality to one's game, and McCollum is one of the finest in his generation. 
Basketball-Reference is an extremely informative page when it comes to NBA statistics, and a Twitter user recently posted an extremely detailed stat that even drew the attention of McCollum himself! 
The post was about mid-range shooting and the player who's attempted the most shots between 5-23 feet since the 2015-16 season. As it turns out, DeMar DeRozan (3407) leads the way, but CJ McCollum (2602) is not far off as he's sitting third on the list. 
McCollum found this stat to be amazing and shared it with his entire Twitter following as well. What's more impressive is that CJ boasts at a 47.7% success rate in this particular range, even having taken hundreds of more attempts than Kevin Durant, Chris Paul, and Kyrie Irving. 
This truly is a commendable fact, and one that denotes McCollum's quality. He's been the perfect teammate alongside Damian Lillard, and the duo has been shaking the NBA with their backcourt partnership. 
NBA Isiah Thomas had incredible words of praise for McCollum and Lillard
Lillard and McCollum are deadly shooters and undoubtedly two of the best in the business. The latter has never lost a trip to the playoffs since becoming a starter with the team, and the Blazers continue to get better with each passing year. 
Portland enjoyed a blowout win against the Golden State Warriors this Saturday, and two-time NBA champion Isiah Thomas validated just how good the duo has become.
ADVERTISEMENT
Article continues below this ad
"CJ and Dame, I mean these are two prime time players that play well together," Thomas said. Furthermore, Isiah also predicted a bright future for the Blazers franchise, but put forth that the players should stay free of any injuries for that to happen.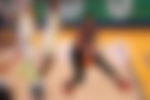 "If they're healthy, they're one of the top two-three teams playing out in the West," added Thomas. This signifies how much Lillard and McCollum have worked to make the Blazers a team to fear once again. 
ADVERTISEMENT
Article continues below this ad
The 2021 season has started off and Portland is currently 3-2 for the season, but there's lots yet to come. While a playoff berth might be on the cards, head coach Terry Stotts and the team should look at making a deep impact this time around.