'Clippers Better Than Us': Snoop Dogg, Magic Johnson and Others React to Lakers' Embarrassing Game 5 Loss to Suns
Published 06/02/2021, 12:44 AM EDT
---
---
The Los Angeles Lakers slipped in the second quarter and look at where it has landed them. The Phoenix Suns are now once again dominating the series with their 3-2 lead, which means the Lakers could be a game away from being kicked out of the playoffs. No other team has more at stake than the former championship title holders. Does this mean that this season is nearing its end for the purple and gold already?
ADVERTISEMENT
Article continues below this ad
Phoenix Suns destroy the Lakers
The game started off better than what came later on. The Lakers and Suns were 26-34 by the first quarter which didn't seem like a very big deal. There was plenty of hope that the Lakers would catch up and make this is a game worth watching. However, it only went downhill from there.
ADVERTISEMENT
Article continues below this ad
The Lakers only scored a total of 8 points in the second quarter, and the Suns had a whopping 32. LeBron James only had 7 points until then and the second lead scorer was Andre Drummond with 5 points. By now, Phoenix had a 30 point lead, and the score was 55-35 by halftime. Even though they made an effort to fight back in the third quarter, the damage was done. It was game over at 115-85.
This was probably their worst performance in the playoffs and there was no way they could have come back from this. In fact, fans couldn't get enough of trolling the Lakers for their humiliating loss.
WATCH THIS STORY: Moments When Michael Jordan was Just Plain Mean To Steve Kerr, Kwame Brown & Others
Did Anthony Davis' absence play a role in their loss?
ADVERTISEMENT
Article continues below this ad
The Lakers had a big hole in their roster. With Anthony Davis out because of a Grade 1 groin injury, the team was missing a key player on both ends of the floor. Davis has been listed as 'Day to Day' after he got injured in the first half of Game 4. He had an ugly landing after he missed a shot.
Although this isn't the only factor that is keeping the Lakers away from wins. Their offense was very poor in Game 4 and it continued in Game 5 as well. Nobody apart from Bron was scoring, whereas the Suns had Devin Booker, who had an incredible 30-point performance, along with Cameron Payne who had 16 points.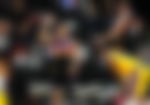 The Lakers direly need AD to come back so that they can even the series out. Do you think this will stretch to Game 7 or will the Phoenix Suns finish this off in their next matchup?
ADVERTISEMENT
Article continues below this ad