Clippers' Superstar Paul George Opens Up About Playing Alongside New Teammate Rajon Rondo
Published 03/28/2021, 4:30 PM EDT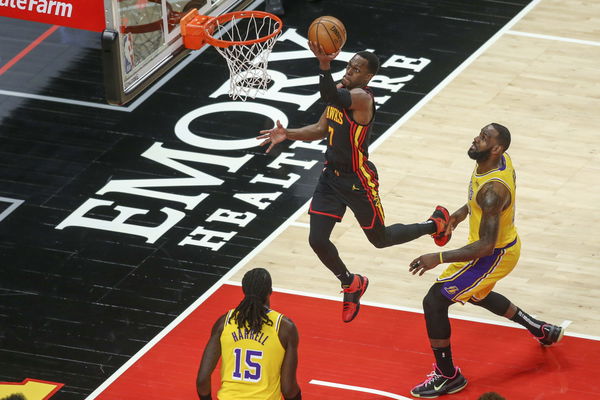 ---
---
The Los Angeles Clippers finally addressed their biggest problem in their roster as they traded away longtime veteran Lou Williams for a veteran floor general in Rajon Rondo.
Rondo was arguably their biggest free signing target for the Clippers in the off-season. Nevertheless, the Clippers did lose a good bench scorer in Williams, but finally have a natural playmaker in Rondo.
The 35-year-old can be a difference-maker for the Clippers, especially in the Playoffs. Given his performance with the Lakers last season, the 4-time All-Star can be a steal for the Clippers.
Clippers' superstar Paul George speaks about Rondo's addition to the team
Clippers have been hugely dependent on both of their superstars, Paul George and Kawhi Leonard for playmaking and distribution this season. The 30-year-old spoke about their new acquisition in a post-game press conference.
PG said, "He's a leader by nature and he's a leader coming in into this team as is so it's almost you know natural it's organic. We know what he stands for, we know what he's about. There's no egos. We want everything that he brings."
He added, "I mean it's never been a situation where it's you know my team or Kawhi feels it's his team like we're in this to do this together and build something together and you know we're here to win together. Same thing goes with Rondo. This team is his regardless if he's played a game yet or not, he's a part of this team.
ADVERTISEMENT
Article continues below this ad
"He's a big piece of this team and it's just respect. We got a lot of respect for him when he's been on other teams and his career and it's continued respect even more so with him being on our side."
Rondo can be a key piece for the Clippers going into this season. The 34-year-old might be averaging 3.9 points, 3.5 assists, and 2.0 rebounds, but much of it is due to the reduced minutes he was getting with the Hawks.
With a much-advanced role in the Clippers organization, Rondo hopefully can replicate some of his form from the Lakers.
His ability to take control of the game especially in the Playoffs can come in handy for the Clippers. Can the Clippers finally win a championship with Rondo on their side?