'Think He's 60%': Former NBA Champion Makes an Honest Analysis on the Lakers' Current Situation
Published 05/05/2021, 6:30 AM EDT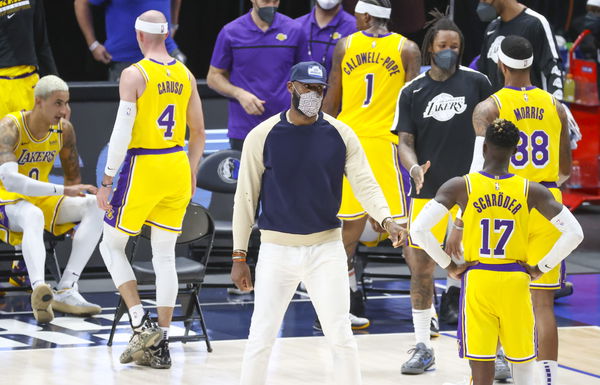 ---
---
LeBron James has missed 22 games now, and this has done significant damage to the Lakers' seeding in the WC. However, that still does not count them out of the NBA final contention and a potential meeting with the Nets, the Sixers, or the Bucks. But for that to happen, they now have a mountain to climb. 
ADVERTISEMENT
Article continues below this ad
The Lakers, even though a top-valued team, and a franchise with a rich history, have taken an underdog role this season. They have way too many 'ifs' to deal with and that is keeping them in the back seat. But is there still something that can cheer them up? One doesn't have to look far because their recent game against the Nuggets must have been a source of happiness.
Kendrick Perkins spoke on the Lakers' winning chances
ADVERTISEMENT
Article continues below this ad
The Lakers enjoyed a much-needed 93-89 win over the #3 Nuggets on Monday. They showed desperation to stay in the top six, and it helped them keep Nikola Jokic and men in check. In a recent interview, former NBA Champion Kendrick Perkins expressed his feelings about the defending champions.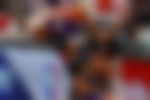 The 36-YO retired player detailed, "I think they still have to go further, but I thought last night was a great starting point, and here's why I love the play-in. Last night, the Lakers had to play with a sense of urgency because they were in a must-win situation. That was a playoff-type game."
Even as Andre Drummond continued with his inconsistent form, Marc Gasol finally took off for the Lakers. Plus, AD's clutch block off a Facundo Campazzo three-point attempt (made of a Nikola Jokic assist) showed that he is picking up his rhythm too. 
KP added, "They got it out of the mud, they were in trenches last night. That's what you love to see. You love to see Marc Gasol turning back the hands of time, battling out there with Jokic. Anthony Davis, took it upon himself to attack the basket and get guys on a low block…"
What lies ahead for the Lake Show?
As Reggie Miller had earlier expressed, it all comes to the Lakers' health. So if LeBron James can somehow get his ankle back to top health, things can change overnight. None of the top three WC teams will want to see the Lakers in the first round of the playoffs, and that'll all depend on Bron's health.
ADVERTISEMENT
Article continues below this ad
Perkins added, "I wouldn't jump the gun because we don't know when LeBron is coming back or if he is ever gonna be close to 80%, right now I think he's 60%."
Also, with Dennis Schroder out because of the health protocols, there is too much at stake. Frank Vogel is still playing trial and error with the starting lineup, with Alex Caruso now getting an opportunity. Many have also demanded that Marc Gasol be brought back to the starters. 
But more importantly, the Lakers now have a tough week ahead of them, and they will want to win at least four of the remaining seven games.
ADVERTISEMENT
Article continues below this ad
Read also – Channing Frye Reacts to LeBron James' Comments on Play-in Tournament