Coach Doc Rivers Explains How 2008 Celtics and 2021 Sixers Strike Visible Commonality
Published 03/17/2021, 1:00 AM EDT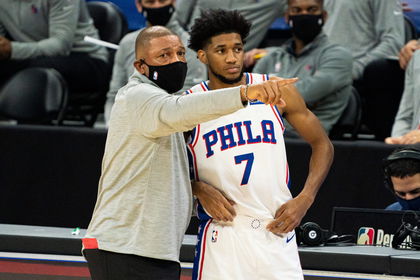 ---
---
Sixers' Doc Rivers never enjoyed as much success as a player as he did with his coaching career. He won the NBA Coach of the Year in his rookie year in the newly acquired position. Later, just nine years into the job role, he won the championship with the Celtics. 
ADVERTISEMENT
Article continues below this ad
Today, the champion coach has a monumental task at hand, that of winning a title for the Sixers. Fortunately, he has a performing squad at his disposal for him to replicate that success that he found with the C's. But where does his current team compare against his former group?
2008 Boston Celtics vs 2021 Philadelphia Sixers
ADVERTISEMENT
Article continues below this ad
In 2008, Doc Rivers had a largely experienced squad in the form of Paul Pierce (30), Ray Allen (32), Kevin Garnett (31), and James Posey (31). He also had a talented center in Kendrick Perkins and the assist king in a young Rajon Rondo.
The C's were up against their greatest rivals, Kobe Bryant and his Lakers. But it was coach Doc and his ability to unite players that took them to the helm. He helped the C's win their 17th title after a gap of 22 years. Can he repeat that with the Sixers and help them win the championship after 38 years of wait?
In a recent interview, the 59-YO coach drew a parallel between both the teams and chalked similarities. He expressed:
"Yes, defensively. When we needed a bucket, we had obviously Paul, Ray. We could also drop it down to KG. And having Joel be that, is really good. Danny and Dwight have been amazing. Dwight is 35 going on 20. With his joy and athleticism, and his spirit, his energy, I'm shocked by how much he brings every night. Danny is just a pro man. When you think about Danny Green, everywhere he goes, teams seem to win. At some point, that's not a coincidence."
What did Doc do uniquely 13 years back, and how can he repeat that?
Coach Doc is creative and demanding with his players. Back in 2008, he showed the Celtics how they were chasing greatness and how that championship banner at TD Garden had a place for them to become immortals. He utilized the unheard power of 'Ubuntu' to use it as a way of life and unite his men for one goal – to win the championship. They were 66-16 in the regular season that year with a W% of over 80. 
ADVERTISEMENT
Article continues below this ad
Today, he is blessed with a roster that is still ranking #1 in EC, even as their MVP candidate Joel Embiid remains sidelined because of injury. The Sixers have a shooter in Danny Green and a defensive giant and rebound king in Dwight Howard, who are both from a recently crowned champion team. So they know how to deal with the playoff pressure more than anyone on the squad. Plus, they boast a DPOY potential in Ben Simmons and another perimeter player in Seth Curry, making them a really good team.
But can they overcome the Bucks and the Nets in the EC to set up for Finals later? Only coach Doc can help with that.
ADVERTISEMENT
Article continues below this ad
Read also – Philadelphia 76ers' Tobias Harris Expresses Anger Towards Coaches and Media For Lack of Recognition