Coach Frank Vogel Does Not See Lakers Making Changes Ahead of the Trade Deadline
Published 03/24/2021, 1:45 AM EDT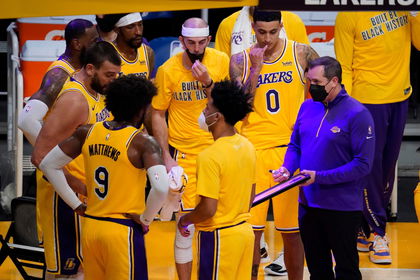 ---
---
The defending NBA Champions and last year's WC winners are far from topping the ranking this season. The Lakers enjoyed a fortunate run in the Orlando Bubble, where they recorded no major injury. In fact, the earlier injured players like Rajon Rondo (now with Hawks) joined them later in the series. However, this season is taking away all the luck from them.
ADVERTISEMENT
Article continues below this ad
Currently, the Lakers are playing without their star duo. As an instant result of this, they allowed the Pelicans to enjoy a 43-point quarter in their most recent loss. But no magnitude of loss is hampering the faith that their coach Frank Vogel has instilled in his unit.
Coach Frank Vogel showed one hundred percent trust in his men
ADVERTISEMENT
Article continues below this ad
In a recent interview, the 47-YO coach declined to spill the beans on any trade possibilities for the team. It seemed as if he had no clue whatsoever about the names that could come up in a swap before the trade deadline. On the contrary, he seemed to show an unsettling yet welcoming confidence in his second unit.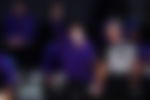 The champion coach confidently expressed, "I don't know what type of players, there's always types of player that can help you. But the biggest thing, we just have to get healthy. My expectations, those conversations are for the front office… We're gonna win games with this group, and I believe in the group that we have. So if nothing happens, we're gonna win games, we'll figure out how to win games during this stretch and it'll benefit us in the long run. I'm not sure if we'll see changes or not. Most trade deadline situations, there's a lot of talks that result in nothing. That's my expectation as a coach."
This showed how the Lakers organization puts their trust in the players and does not begin looking for alternatives in hard times. So now the onus is on Dennis Schroder, Montrezl Harrell, Kyle Kuzma, and others to perform. The Lakers also had a very busy 2020 off-season, and hence they might not be in a rush this time around. 
Read also – Anthony Davis Reveals Frank Vogel's Unique Coaching Style
Lakers' LeBron James had hinted at a similar train of thought earlier
For the Lakers, not two, but four players have been on the injured list for quite a while. Apart from the star duo, Marc Gasol has been unavailable for the last couple of weeks and so has Jared Dudley (knee). 
Marc, the center player, came into the team with a lot of hype around his name. But so far, he has failed to prove as valuable. The 36-YO averaged a career-low 4.8 points, 4.1 rebounds, and 2 assists in the 35 games he played so far.
However, speaking on the topic of roster changes, LeBron James reflected the same thoughts as that of coach Frank.
ADVERTISEMENT
Article continues below this ad
LeBron James: "I'm not in the mindframe as far as what needs to happen as far as our roster. For us, what needs to happen is we want to play better basketball with the group that we got. I believe in every guy in our locker room & every guy that hits the floor."

— Mark Medina (@MarkG_Medina) March 11, 2021
This is nothing but a reflection of how the Lakers organization works. Even with a dysfunctional unit, they will stay positive and take it as practice for building a better and stronger future. 
ADVERTISEMENT
Article continues below this ad
About the trade options, the Lakers might be interested in the likes of LaMarcus Aldridge and Andre Drummond, but their hard cap allows shelling out only $1.6 million. So a trade difference can not exceed the mentioned amount and hence it will be tough for them to work anything out.