Comedian Roy Wood Jr. Believes LeBron James Will Make 'The Avengers' Brooklyn Nets Suffer
Published 04/03/2021, 2:11 PM EDT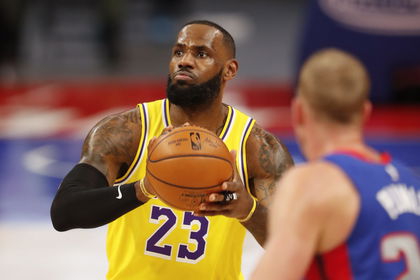 ---
---
The 2020-21 NBA season is undoubtedly heading towards a blockbuster ending. Everyone is predicting a Los Angeles Lakers versus Brooklyn Nets series in the finals. They're the favorites, but actor/comedian Roy Wood Jr. is too irked by the Nets' motive to defeat an aging LeBron James. 
ADVERTISEMENT
Article continues below this ad
A lot of fans are frustrated with the Brooklyn Nets for stacking up the roster with veteran superstars. While it is hindering the chances of other teams, this guarantees that we're in for a cracking postseason in 2021. 
Roy Wood Jr. is one among the passionate fans of the association who dislikes the Brooklyn Nets' motive to try and win a championship. They had already assembled the three best players in the league, but in addition to it, signed Blake Griffin and LaMarcus Aldrige as well! 
ADVERTISEMENT
Article continues below this ad
Roy Wood Jr. believes the Brooklyn Nets are intimidated by LeBron James
A lot of people state that LeBron James began the trend of assembling superteams and the formation of 'Big Three' within the roster. While that is a debate for another day, the Nets have currently employed three of the most dangerous offensive players on their team. 
"Yo man this is like the avengers. I need time to learn all these characters. It's too many people all on one team," Roy Wood Jr. mentioned during a recent appearance on ESPN's Jalen & Jacoby show. 
"If it takes all of that and they still can't beat LeBron, I don't want to hear anything else about LeBron's legacy. That's what this is all about. This is all about trying to beat a 36-year-old man with right now kind of a weak ankle but you know every time you see LeBron, he's in better shape than the last time you saw him," he further added. 
ADVERTISEMENT
Article continues below this ad
With this statement, it is clear that Roy Wood Jr. backs LeBron James to win the 2021 NBA championship. Furthermore, the 42-year-old comedian also stated that the Nets aren't guaranteed a berth in the NBA finals as they would have to get past the likes of the Miami Heat and the Philadelphia 76ers first.
What do you think? Will the current NBA Finals prediction turn out to be true? Or will any other team upset the potential favorites and mark their place on the grand stage? 
ADVERTISEMENT
Article continues below this ad
Read Also: Celtics Coach Brad Stevens Excited For Former Star Isaiah Thomas' Return to NBA