'Complete Opposite': Personal Trainer Reveals the Major Difference Between Michael Jordan and Kobe Bryant
Published 01/25/2021, 10:35 AM EST
---
---
The world dearly misses Kobe Bryant. It's almost a year since he passed, but it is still hard to come to terms with it. When Kobe Bryant came into the NBA, he wanted to emulate Michael Jordan. He did a flawless job of replicating his idol's game, but there was a difference between the two. What was it? 
ADVERTISEMENT
Article continues below this ad
It should be noted that Jordan and Bryant worked with the same trainer, but at different timelines of their career. Michael Jordan recommended Tim Grover to Kobe when the latter called him up regarding knee problems in 2007. 
It was no secret that Kobe was trying to develop a skill set like Jordan. In fact, the shooting guard used to make his team bus wait longer whenever the Lakers played the Bulls so that he could receive tips from the man himself. 
ADVERTISEMENT
Article continues below this ad
Tim Grover lists the significant difference between Kobe Bryant and Michael Jordan
Kobe tuned his game to play like MJ, but their mentalities were absolutely different. They approached every game to win, but the way they trained for it was unique. Here's how Tim Grover put it: 
"Kobe needed to know everything," Grover said. "He wanted to know why we did this exercise? Why this many reps? Why this? Why that? Kobe, he was always, 'Why, why, why?' Because he was a student. He was learning."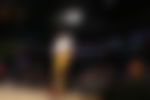 "Michael was just like, 'I hired you to do a job. Just get me the end result. I don't need to know why I'm doing this, what's going on. But when I do ask, you better have the answer.'"
Grover absolutely nailed it with his observation. His views certainly match with how we saw those two compete on the court. Kobe Bryant was a man who demanded an explanation for every action, while Jordan was someone who was willing to go through with anything, provided the results were showing. 
ADVERTISEMENT
Article continues below this ad
"Michael knew when enough was enough," Grover added. "Like, 'OK, I got to shut my body down. I need to relax.' With Kobe, it was the complete opposite. If he couldn't sleep, Kobe was like, 'My time is being wasted. I need to go to the gym and get some shots up.'"
That is the Mamba mentality right there. We've heard plenty of stories that glorify the undying mentality of Kobe, and here's one more. Not saying that Jordan was putting in less effort, but Bryant was in constant search of greatness, even after reaching the summit! 
ADVERTISEMENT
Article continues below this ad