"Congratulations to the Miami Heat": NBA Twitter in a Frenzy After 76ers Coach Doc Rivers Makes Surprising Comments Post Game 1 Loss
Published 05/03/2022, 12:18 AM EDT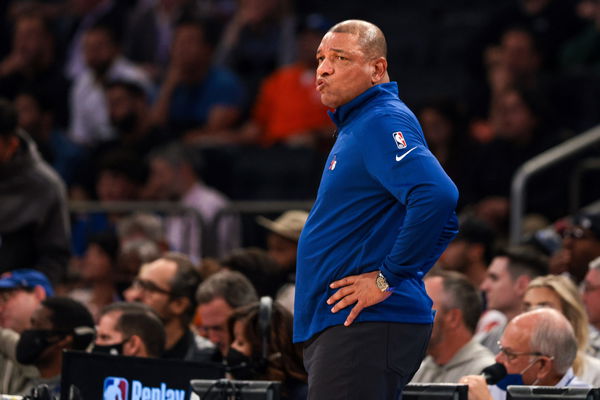 The Philadelphia 76ers would want to forget today and move on. The Miami Heat, today, were just a level above them. The squad, including the likes of James Harden, couldn't dismantle the stout defense of Miami. While Miami Heat Coach Erik Spoelstra has reasons to be overjoyed, 76ers Head Coach Doc Rivers, less so. But he will know better than anybody that Playoffs are not won in one game. Being a coach for more than two decades does give you a bit more insight into how a NBA team should be managed. He does have that but like any other coach that came before him, he, too, is stubborn.
In Rivers' last few press scrums, he had to be defensive not only about his team but also about his record in the playoffs. He is no fan favorite coach but does have experience to know what needs to be done to let the team run smoothly. However, Backing players is one thing he hasn't done consistently.
Doc Rivers: "We like DJ. We're gonna keep starting him whether you like it or not." #Sixers

— Ky Carlin (@Ky_Carlin) May 3, 2022
ADVERTISEMENT
Article continues below this ad
Surprisingly, he did not do the same with DeAndre Jordan. Rivers backed him despite his not so great performance against the Heat during the Conference Semifinals. He said,"We like DJ. We're gonna keep starting him whether you like it or not because our guys believe in him". Jordan had a +/- of -22 while he was on court.
Twitter reacts to Doc Rivers' surprising decision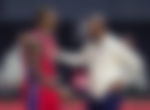 Fans were understandably upset about this assertion of Doc Rivers. Jordan's performance was nothing to write home about. Some would contest that he was actively detrimental to the team. And NBA twitter did not hold back when speaking about this.
I know a lot of ya'll don't really follow the Sixers or sports in general who follow me and won't really get why this sucks, but I need a second here…

And luckily I can use an animation clip to describe my pain! https://t.co/21aslwGk4Y pic.twitter.com/ThNtMO4mBA

— TRAFON(s Backup Account) (@RiseFallNickBck) May 3, 2022
Philadelphia 76ers' performance today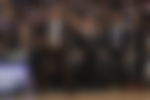 The 76ers will have to do some soul searching before the 2nd game starts. It is still only one game in a seven match series. While star center Joel Embiid sat out owing to an orbital fracture and concussion, the Philadelphia 76ers needed James Harden to play like the former NBA MVP he is.
ADVERTISEMENT
Article continues below this ad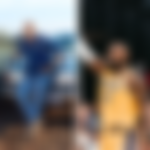 Unfortunately for Philadelphia, Harden didn't come close to his prime form as he put forth a lackluster performance in a 106-92 loss. Harden scored 16 points on 5-of-13 shooting with nine rebounds, five assists and five turnovers. It had already been expected that the Sixers would face an uphill battle against the top-seeded Heat, but Philadelphia has no chance in the series if Harden continues to play like this. His Sixers teammates weren't that much better. Tobias Harris scored 27 points and Tyrese Maxey added 19, but they were the only bright spots.
Philadelphia shot just 6-of-34 (17.6 percent) from three-point range against a staunch Miami defense.
ADVERTISEMENT
Article continues below this ad
Watch this Story: Floyd Mayweather vs LeBron James: Which Millionaire Superstar Has A Higher Net Worth?
Are the 76ers out for good for now? Will they comeback? The next few games will hold the answer for the fans.