Luka Doncic Workout Routine That Allows Him to Stay Effective Even Without a Superman Physique
Published 09/08/2021, 9:59 PM EDT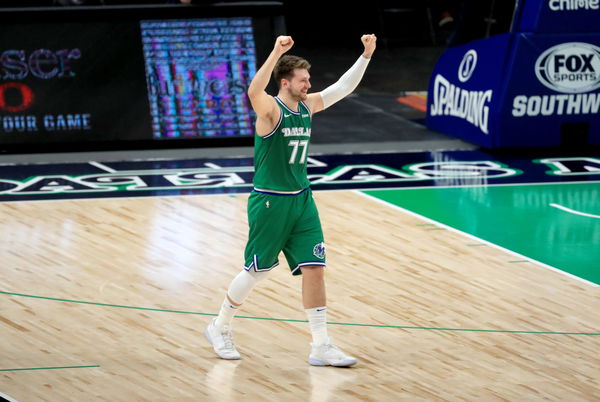 ---
---
Dwight Howard, Rajon Rondo, and Jimmy Butler are some of the NBA players who look more like they took birth in a gym. However, there is this sweet face from Slovenia who looks exactly opposite and yet performs like an elite. It is the Dallas Mavericks' Luka Doncic, an athlete who does not look like a physical beast, but he most certainly is fit and fabulous in all regards.
ADVERTISEMENT
Article continues below this ad
Yes, Luka is not Cristiano Ronaldo fit, but maybe he is Wayne Rooney fit. But that does not mean he doesn't put hours and hours in the gym to get himself in shape good enough to lead a franchise to success. And when the condition allows, the 22-YO even includes some healthy flirting into his fitness regimen.
ADVERTISEMENT
Article continues below this ad
Luka Doncic workout routine
Weight Training
Luka spends under 3 hours in gym, and that includes lifting weights. He would work with the barbells, lunge with weights, perform bench workouts, train with dumbbells, and lift for his shoulder strength. Take a look at some training pictures that he shared –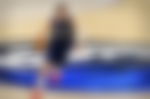 Vertical Jumps
Luka's game involves a lot many stepback jumpers and his legs must be strong enough to carry his 230 lbs body. So he builds that explosiveness with vertical jumps and ensures his lower body can take the damage.
Flexibility and agility
Luka's training is completely basketball centric and hence he works seriously on his ability to move quickly on the court. He has formerly worked with Jure Drasklar & Brandon Payne as his fitness trainers and that has done well for him in this area.
How does he get NBA ready?
Long-range shooting
In the past, this NBA prodigy has worked out alongside Steph Curry to improve his three-point shooting. As a direct result of including shooting to his regimen, the man achieved a career-high average of 35% from beyond the arc in 2020-21. Bill Duffy, Luka's agent, once said about his practice with Curry, "For me, I just wanted him to be exposed to the excellence of Steph. Not just Steph's skill, but appreciating the work that goes into it."
Other basketball-specific shot-making drills
Luka is not a rim dominator and so his game does not involve dunking. But it does involve form shooting and Luka works hard on that. He practices his floater shot to build the muscle memory and convert those during clutch-time even with two or three defenders on him.
Ball handling and dribbling
As a major part of the game, the 2x All-Star includes unique dribbling variations in his workout to become a better ball-handler. His passing skills are already elite and all this is a result of regular sparring during the practice.
ADVERTISEMENT
Article continues below this ad
Apart from this, as far as his diet is concerned, the man is about more protein, fewer carbs in his diet percentage. Being a Slovenian, he lives close to Alpine-fed rivers, and that means a lot of fishes, and Omega-3 in his diet. So Trout fish rolled in buckwheat flour becomes his dish. He consciously consumed 4-6 meals a day and ensures he's hydrated all the time to do away from muscle injuries.
ADVERTISEMENT
Article continues below this ad
So what's your takeaway from his chart? Help us know in the comments section below.
Watch this story – Luka Doncic, Giannis Antetokounmpo, and Other Europeans that Rose to Stardom after Joining the NBA