Damian Lillard Explains Why NBA Is Easier Than Olympics Basketball
Published 08/08/2021, 2:00 PM EDT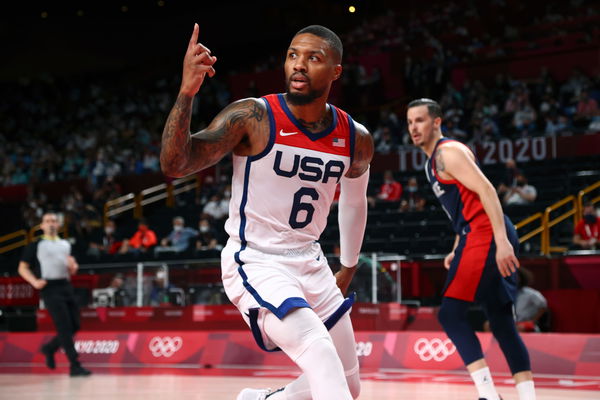 ---
---
If anybody thinks that playing in the NBA and playing at the Olympics is the same, they've got it all wrong. Both these tournaments have plenty of differences, and players have recently figured out that scoring at these events is not the same. And if that's hard to believe, hearing it from Luka Doncic and Damian Lillard should be convincing enough.
ADVERTISEMENT
Article continues below this ad
Team USA just clinched their fourth straight gold medal at the Tokyo Olympics, and the journey wasn't easy at all. In fact, they had to go through a couple of humiliating losses to get back in form. Now, this is a team filled with superstars and yet they struggled to get victories. Why? The answer was simple and Luka Doncic pointed it out first.
In an interview, he stated, "Here [in the NBA] it's easier to score compared to Europe, of course. In Europe, the court is smaller and here there is the three seconds rule. I think it's easier to score here."
ADVERTISEMENT
Article continues below this ad
Luka articulates his first experience at the Olympics. He led his Slovenian team to this prestigious tournament for the first time in history. In fact, they even went up to the semifinals but lost their bronze medal at the hands of Australia. A fresh set of eyes clearly gives a better perspective. But he isn't the only one who thinks this way either.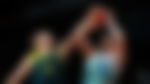 WATCH THIS STORY: LeBron James Won't Win in Miami, Kevin Durant Won't Join Warriors, & Other Hilarious Predictions by NBA Analysts Over the Years
Damian Lillard backs up Luka Doncic
Lillard, who was a vital piece of Team USA's accomplishment at the Olympics this year, has the same outlook. He stated before his Finals appearance against France, "I can see why. A lot of the best scorers in the NBA, they score from three and they get to the rim and they get fouled. In FIBA, there's not as many fouls calls. You are going to get away with a lot more, it's more physical."
ADVERTISEMENT
Article continues below this ad
"And there's also no defensive three-second [violation]. So the paint is usually more crowded. Forcing into the paint is usually playing in a crowd. The referees aren't going to give you the benefit of a doubt with a whistle. And it's hard to play in a crowd. To score in a crowd and people who are just sitting in the paint. That's tough."
" I think that definitely makes it harder to score when you play with FIBA rules as opposed to the NBA where there's a lot of less contact allowed, defensive three seconds…," he concluded.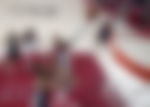 Damian Lillard was also new to all the shenanigans of International basketball this summer. So, he would understand the stark difference, just like Doncic would. The rest are more accustomed to it by now. What are your thoughts on this?
ADVERTISEMENT
Article continues below this ad