Damian Lillard Joins Former MVPs On Historic Clutch Time Performance Numbers
Published 02/18/2021, 2:30 PM EST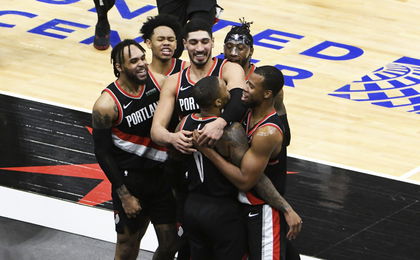 ---
---
Damian Lillard is clutch. There have never been two ways about it. He can have a bad game till the last four minutes of the fourth quarter and then not miss a single shot. Every shot he takes seems like a bad shot until it goes through the net. Lillard has won the Trail Blazers a number of games in last shot situations this season, most notably against Chicago and Dallas this month.
ADVERTISEMENT
Article continues below this ad
However, he has done a lot more than just hit those two game-winning shots. Lillard has been consistently showing up in clutch time situations with the game in the balance in the last few minutes of a contest. He has 82 points in that situation, shooting 63% on his shots. He is easily the league leader in this stat.
Damian Lillard has scored 82 points on 63% FG in clutch time this season.

Only 2 players over the last 25 seasons have led in both clutch time points and clutch time field goal percentage in the same season (min. 50 FGA): Hakeem Olajuwon in 1996-97 and Kevin Garnett in 1999-00. pic.twitter.com/vXFReZpgng

— ESPN Stats & Info (@ESPNStatsInfo) February 18, 2021
ADVERTISEMENT
Article continues below this ad
What is even more amazing is that Lillard is only the third man in NBA history to lead the league in both clutch time scoring and percentage. The other two are Hakeem Olajuwon from his post-MVP 95-96 season and Kevin Garnett's 1999-00 season. That is some neat company to be in.
Damian Lillard: Can the clutch factor help Portland make a deep playoff run
While Damian Lillard and the Trail Blazers struggled to make it into the playoffs last season, they are in a comfortable spot this year. The playoffs look inevitable, and Portland will hopefully have Jusuf Nurkić and CJ McCollum back by then.
ADVERTISEMENT
Article continues below this ad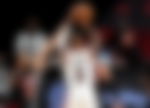 Considering how well this team is playing already, it seems crazy to imagine how good they would be if Nurkic and McCollum were also on the floor. Lillard can excel in the clutch, but Portland has to make a habit of keeping games close enough to win in the clutch.
ADVERTISEMENT
Article continues below this ad
Lillard seems unbeatable when the stakes are at the highest. He has represented Portland his entire career and taken them to a Conference Finals. However, the championship window for him is also closing. Every season is a season they want to win, and Lillard is playing like that.