Damian Lillard Joins Steph Curry in Another Elite 3-Point List in a Loss to Chicago Bulls
Published 01/06/2021, 6:00 AM EST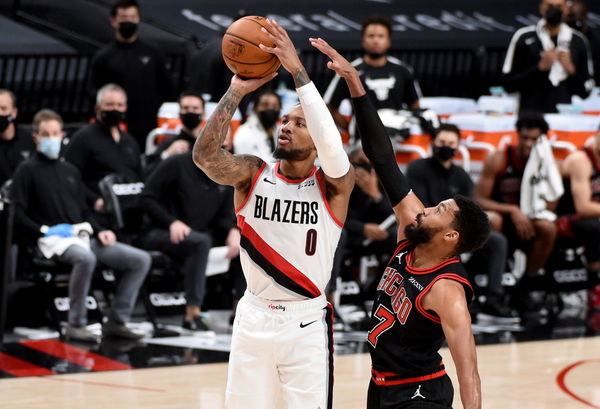 ---
---
Since the beginning of his career, Damian Lillard has been repeatedly compared by fans and critics to Steph Curry. And it is easy to see why. Both the premier point guards are the heart and soul of their teams. Also, both of them are not just snipers but also moving artilleries from the 3-point line.
ADVERTISEMENT
Article continues below this ad
Lillard emulated his Golden State counterpart yet again. On Tuesday, in a loss to the Chicago Bulls, Lillard became the 2nd fastest NBA player to make 1,800 threes.
He took 622 games to reach the astronomical feat. But who is the fastest? No prizes for guessing; it is the greatest shooter in the game, Steph Curry. Curry needed a measly 545 games to hit this mark.
ADVERTISEMENT
Article continues below this ad
On Tuesday, Damian Lillard became the second-fastest NBA player to make 1,800 threes, doing it in 622 games. Stephen Curry is the fastest, needing 545 games to hit that mark. pic.twitter.com/6feq6bsJMt

— ESPN Stats & Info (@ESPNStatsInfo) January 6, 2021
Where does this put Damian Lillard in the All-time 3 point list?
In the all-time 3 point list, Dame Dolla currently places 18th with 1802 threes. That is four places ahead of Klay Thompson, who is stuck at 1798 threes because of serious back-to-back injuries.
Lillard is 25 places behind the late Kobe Bryant and could overtake him soon this season, barring any injuries. He also has the potential to enter the top-10 this season. Jason Kidd, the 10th man on the list, has 1988 threes to him. Going by Lillard's average of 200 threes made a season he is the favorite to overtake him by the end of this campaign.
The active players ahead of Lillard in this list are Steph Curry (3rd), James Harden (5th), JJ Redick (14th), and LeBron James (15th). This list is headed by catch-and-shoot perfectionist Ray Allen, who has 2973 threes to his name.
By the time Lillard gets to a new mark, Steph would have already set a new marker. And Harden would have possibly overtaken him as well. But Lillard could still be 3rd on the list when he hangs up his boots.
ADVERTISEMENT
Article continues below this ad
Lillard and the Blazers are struggling right now
Dame's form mirrors that of his team and is inconsistent. He is only averaging 35% from the perimeter this season, and the Blazers have a 3-4 losing record to their name. In fact, CJ McCollum has looked like their best player so far.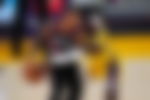 If he performs anywhere close to the level he showed in the Bubble, the Blazers will have a very good season. It is time for Lillard to unleash Dame time.
ADVERTISEMENT
Article continues below this ad