'Dam Warriors': Klay Thompson's Father Shares His Intentions to Have His Son Join Lakers
Published 04/18/2021, 1:35 AM EDT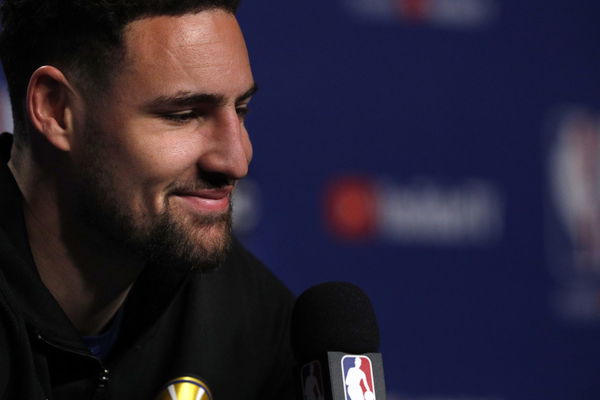 ---
---
One can easily term the Warriors as the luckiest franchise, given they could get a hold of Steph Curry, Klay Thompson, and Draymond Green. None of these players were a Top 5 pick in their respective draft seasons and yet contributed immensely towards the success of the Bay area. Especially for Klay. It was highly unlikely for him to go anywhere but the Lakers.
ADVERTISEMENT
Article continues below this ad
Just as LaVar Ball wants all of his sons to play for Michael Jordan's Hornets, Klay's father wanted him to play for the Lake Show. His recent Twitter post further proved that his ambitions were real. 
Mychal Thompson and his undying love for the Lakers 
ADVERTISEMENT
Article continues below this ad
Klay Thompson took birth in February 1990, when Mychal Thompson was in his fourth season with the Lakers. So naturally, Klay's earliest memories had his dad playing in the Golden and Purple jersey. 
Mychal played 335 games for the Lakers and won two rings with them. Perhaps these championship wins overlapped his old love for the city of Portland and made him a lifelong Laker.
As a result, he wanted Klay to join the Lakers but failed to make it happen. The dynamics were completely against the Lakers getting their hands on him.
Klay made himself available to draft in 2011, and the Lakers had no first-round pick that season. All they had were three second-round picks and in no real world could have the Washington State prodigy stayed available till then. 
The Warriors drafted him eleventh as the nine teams (Cavs picked twice) failed to understand Klay's worth. 
Read Also – 'Working His A– Off': Warriors' Steph Curry Discusses Klay Thompson Idiosyncrasies and His Comeback
Sweet Bells supported his son's choice to stay with the Warriors
Nahhhh he loves the Bay and Warrior fans too much to leev,Vick

— Mychal Thompson (@champagnennuts) April 17, 2021
ADVERTISEMENT
Article continues below this ad
While Mychal Thompson's other son, Mychel, failed to play more than five NBA games, Klay's career shot off. True, Klay had no control over the draft selection, but he could've later joined his father's favorite team asking for a trade. However, he chose never to and stayed true to the franchise that built him into a historic shooter.
After Mychal dropped the post of a toddler Klay wearing a Lakers hoodie, many fans asked if it was possible for Klay to make an LA move. To this and the many other comments, Mychal politely rejected and expressed how his son is so happy in the Bay area. Maybe the feeling is mutual for Dell Curry, who can never regret his son Steph Curry playing for the dub nation. 
ADVERTISEMENT
Article continues below this ad
Klay, a phenomenal 2-way player, is one of the aces for GSW that they've always kept closer. Do you think Klay or Steph would ever consider leaving the Warriors? Help us know in the comments.