Days After Eating Frog Legs on Live TV, Shaquille O'Neal Yet Again Bites the Bullet for His Own Actions on Live TV: "I'm a Man of My Words"
Published 01/25/2023, 4:50 AM EST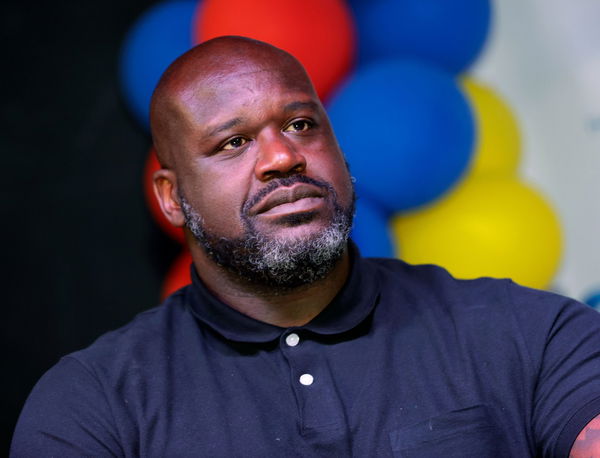 Shaquille O'Neal has once again grabbed the attention of the NBA world, this time by owning up to a lost bet. If there is someone who is known for betting on the most random things, it must be the Big Diesel. Shaq's new look on the 'NBA on TNT' show has gone viral over the internet. After trolling Stephen A. Smith by copying his hairline on the show previously, Shaq has now come up with another sensation that is loved by his fans. 
Losing his bet to WNBA star and host of the 'NBA on TNT' show Candace Parker, the Los Angeles Lakers legend has paid the price for the consequences. 
Shaquille O'Neal sports a new look after losing a bet to Candace Parker
ADVERTISEMENT
Article continues below this ad
A week ago, during half-time of the game between the Philadelphia 76ers and the Los Angeles Clippers, Shaq made a bet on 76ers star Joel Embiid. Shaq mentioned to his co-hosts, "If he don't get 50, I'm getting baby hairs". Although Embiid had 26 points in the first half, sadly for Shaq, he ended up scoring 41 at the end of the game. 
True to his word, the Big Aristotle came out with a new look of baby hairs stuck to his head as promised. Shaq revealed his new look mentioning, "Because you know I am a man of my word and I lost my bet to Candace, and I got to have my baby hairs". Candace Parker didn't go easy on Shaq as she made sure the hair was perfectly swirled, by brushing it further. 
ADVERTISEMENT
Article continues below this ad
In a tweet from 'NBA on TNT', Jamal Crawford approached Shaq after noticing his hair had fallen off. The hilarious replay of Shaq's hair falling off his head is going viral on Twitter. People love to see Shaq on the show, as he never fails to entertain them. 
Shaq eats frog legs after losing his bet to Ernie Johnson
This is not the first time the four-time NBA champion has lost a bet. Shaq told 'Inside the NBA' host Ernie Johnson that, if Georgia beats TCU in the college football playoffs, he would eat a frog. After TCU's huge loss, Shaq as promised ate some frog legs. Weirdly, Shaq seemed to enjoy the frog legs. 
ADVERTISEMENT
Article continues below this ad
Watch this Story: "The complete history of Shaquille O'Neal-Rudy Gobert beef after the 4x NBA champions latest attack"
What do you think Shaq will end up doing next time he loses a bet? Let us know in the comments below.