Days After Hitting the Road With New Boyfriend, Unpredictable Larsa Pippen Draws Intimate Reaction From Michael Jordan's Son Marcus
Published 03/16/2023, 10:30 AM EDT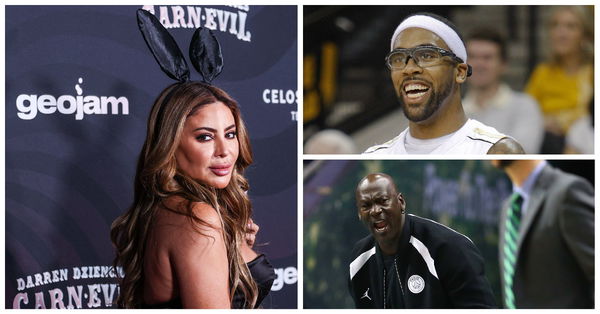 Larsa Pippen has successfully grabbed everyone's attention despite minding her own business. Over the last few months, fans have been keenly interested in her dating life and it was only a matter of time before she came out with all the details. Larsa Pippen confirmed her relationship with Michael Jordan's son, Marcus Jordan just a while ago. With tons of pictures and a vacation, the couple isn't really shying away from the world as they enjoy each other's company.
Marcus Jordan and Larsa Pippen's dating rumors existed since last year, but the duo started to show each other off to their fans just a while ago. So much so that Marcus Jordan can't help but gawk at his girlfriend's stunning pictures, even though they recently enjoyed a fun vacation together.
Larsa Pippen making her partner Marcus Jordan swoon with her beauty
ADVERTISEMENT
Article continues below this ad
The couple has gained a lot of interest in the past year, as the rumors about a possible relationship started in September 2022. The fans were rather surprised at the union, considering their family's connection.
However, over the past year, they have hardly cared about the chatter as they continue to enjoy each other's company. In a recent Instagram post by Larsa, the 48-year-old posted a stunning picture of herself in a black outfit. 'Jordan's heir' couldn't help but gawk at his girlfriends' beauty.
 

View this post on Instagram

 
Marcus Jordan commented with a few emojis that aptly describe his feelings toward Larsa. Additionally, judging by Larsa's profile and Marcus's comments on it, the duo are absolutely into each other. The Bulls legend's 33-year-old son has stayed quite mum about their relationship, but Larsa recently went all out, destroying all the myths about the couple.
Since the rumors started, Larsa has dealt with rather unpleasant reactions from a certain section of fans who weren't quite happy with them dating, considering the history of their families. Hence, recently, the 48-year-old ex-wife of Scottie Pippen decided to shut the haters once and for all.
ADVERTISEMENT
Article continues below this ad
Larsa Pippen shuts haters down 
In a recent podcast episode of Way Up with Angela Yee, Larsa decided to break down certain myths about her current relationship. The 48-year-old mentioned how she and Marcus Jordan's dating each other was a surprise, even for the duo themselves.
Watch This Story: Before Dating Michael Jordan's Son Marcus, Larsa Pippen's Dates After Divorce With Scottie Pippen
ADVERTISEMENT
Article continues below this ad
Larsa mentioned how she was trying to "set up" Marcus with some of her friends before they fell for each other. Additionally, she pointed out that they were acquainted with each other for the last four years. Fast forward a few months, and it looks like they are enjoying each other's company and have completely fallen for each other.