'Deepest Team in the NBA': Kyle Kuzma Assures Short Offseason Won't Affect Lakers
Published 12/22/2020, 10:42 PM EST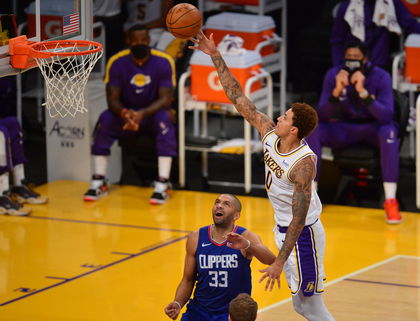 ---
---
There was skepticism all around about how the Los Angeles Lakers will play this upcoming season. Nobody doubted their capabilities, but the short offseason meant that they got the least amount of time to get some rest and prepare well. Playing so soon for players like LeBron James and Anthony Davis means high injury risks as well. However, Kyle Kuzma feels very optimistic about their chances.
ADVERTISEMENT
Article continues below this ad
The purple and gold are playing the LA Clippers in the regular-season opener. Both these teams have had journeys that were poles apart last year. While the Lakers won their 17th NBA Championship, the Clippers received a lot of criticism for their early exit from the playoffs.
The newly built roster makes it easier for the Lakers
ADVERTISEMENT
Article continues below this ad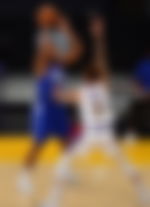 With the Clippers having had more time to rest, will the brief offseason be the biggest disadvantage for Lakers? Kuzma thinks the answer is yes and no.
In an interview with SiriusXM NBA Radio, he stated, "I think it's going to be a little bit of an issue because obviously, Bron and AD, those guys are just slowly getting back to playing safe and playing in the form will take some time. And obviously having a short offseason."
Kuzma spoke about the upside as well and said, "At the same time, I think it's a good thing because we're probably the deepest team in the NBA, on paper at least. We have a lot of guys that can play and come in. Just looking at a guy on our roster, Talen Horton-Tucker. Obviously we've got a lot of depth and a lot of people here, but we have guys sitting out, a guy like that, who is thirsty and hungry to come in to play. He can come in and change the game easily. So it might hurt a little from a chemistry stand-point, but we got bodies."
ADVERTISEMENT
Article continues below this ad
Kyle Kuzma gets his extension
After watching Kuzma take the court by storm in the preseason, he is starting to prove that he can be the third scoring option the Lakers need. In the last season, he was a little unreliable and when Davis and LeBron didn't have the ball, the team didn't know who could take over.
However, the preseason showed a different picture, and the rookie bagged a 3-year extension worth $40 million. Lakers fans can only hope he carries that form into the regular season as well.
ADVERTISEMENT
Article continues below this ad