Dennis Rodman Drops Shocker on Tiger Woods and Michael Jordan's Parties in Chicago
Published 09/03/2021, 12:33 PM EDT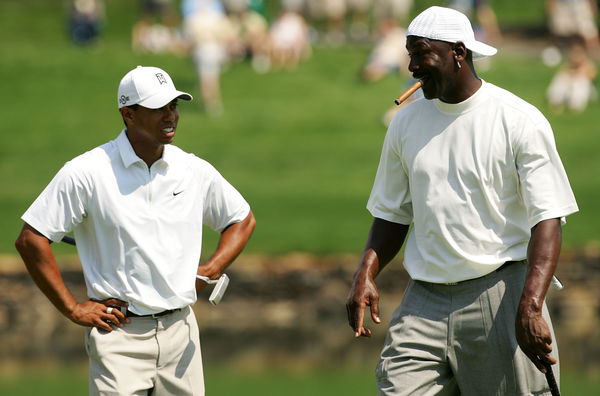 ---
---
The 90s Chicago Bulls were one of the best teams the NBA has ever seen. While their first three-peat team featuring Michael Jordan, Scottie Pippen and Horace Grant had their plaudits, it was the second three peat team featuring MJ, Pippen and Dennis Rodman who are the face of the 90s Bulls.
With the dynamic scoring of Jordan, incredible all-round play of Pippen and Rodman dominating the boards and the defensive end, the Bulls were unstoppable and dominated their competition, regardless. Despite facing off against teams like the Utah Jazz, the Seattle Supersonics or the Orlando Magic, Bulls had the answer for each and every threat. With their incredible versatility, the Bulls easily stood out as the super-team in the 90s.
Dennis Rodman reveals when Tiger Woods partied with Michael Jordan
The 90s Bulls featuring the trio of Jordan, Pippen and Rodman were one of the most popular trios on and off the court. Given how successful the Bulls were in the 90s, Chicago had all the buzz in town.
Rodman, who was one of the most polarizing characters in the NBA, was known for his incredible off the court exploits. While Rodman made the headlines, the Bulls teammates didn't stay far behind.
The 2-time DPOY recently made a shocking revelation. In an appearance at the Full Send podcast, the 5-time NBA champion revealed that Jordan and another sporting icon in Tiger Woods always used to party with each other.
"I remember Tiger back in the day he was like 16 years old when he was hanging out with us in, uh, Chicago. He used to go out there with Michael all the time."
With his time with the Chicago Bulls, MJ arguably became one of the best players to ever play the game.
Winning 6-NBA championships and 6-Finals MVP, Jordan became an instant icon. To see how Tiger Woods' career turned out to be over time, it is absolutely astonishing to see arguably two GOATs hanging out with each other.