Dennis Rodman Once Left Fans Baffled With His New Shooting Form, Shaquille O'Neal Shares Footage
Published 05/02/2022, 11:30 AM EDT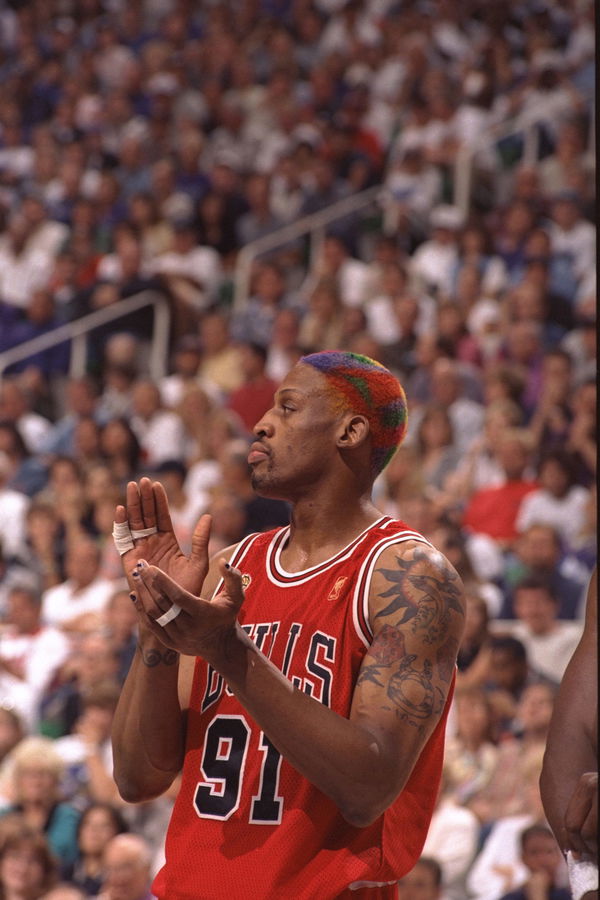 There are some players who have a fearful reputation because of their style of play. The opposing teams get worried. They make a plan to overcome one specific person, how to beat him, how to get past him, and how to deal with him. Dennis Rodman was one such player and there are very few who fit the bill. He was credited with nicknames like Dennis the Menace, Psycho, Rodzilla, Demolition Man. The names only suggest what kind of player he was.
He was one of the most solid and dangerous players to play against. The NBA world feared him and his 'Bad Boys Piston' team. In the late 80s, they won two consecutive NBA championships. Rodman was one of the main protagonists. His physicality and strength were something special.
ADVERTISEMENT
Article continues below this ad
Rodman's hustle to make impact, get defensive blocks, steals, keep the ball in play, and absolute bossing rebounds were something just to wow about. His passion and intensity were always on 100. He used that energy in absolutely every game. While he had many strengths, free throws probably weren't his strongest suit. Rodman had a 58.4% free throw percentage just a touch more than Shaquille O'Neal who had a career free throw percentage of 52.7.
WATCH THIS STORY: 10 things Rodman can't live without.
Shaquille O'Neal posts video of Dennis Rodman taking an unusual free throw
Shaq's Instagram is a dreamland for entertainment. He always shares random posts or reels which are either hilarious, interesting, astonishing, something about awareness or about NBA stars and legends. Shaq recently shared a video of Rodman changing his throwing style and using just one hand after he missed one free throw to hit the next.
ADVERTISEMENT
Article continues below this ad
 

View this post on Instagram

 
Dennis Rodman was probably the best rebounder in the NBA ever. As such, he was the leader in rebounds in 7 NBA seasons. Rodman was inducted in the hall of fame in 2011. Moreover, he is also a part of the NBA 75th anniversary team. He won 5 NBA championships over the course of 14 years in the NBA. Two of them came with the Bad Boys Detroit Pistons. Three came as Michael Jordan's teammate in Chicago Bulls, in the three-peat (1996-1998).
ADVERTISEMENT
Article continues below this ad
Rodman left a special impact in the league when he retired. Over the NBA seasons, there have been 13 games with 30+ rebounds. Dennis Rodman has five of the 13. Nobody else has more than two. Moreover, Rodman is one of two players in NBA history with 5,000+ more career rebounds than points scored. Rodman had 11,954 rebounds and 6,683 points (+5,271). A true legend of the NBA in every sense.