Despite 12-Year-Relationship and a 10 Year Old Son, Actress Nia Long Never Married Ime Udoka Due to a Long Held Belief
Published 10/02/2022, 10:52 AM EDT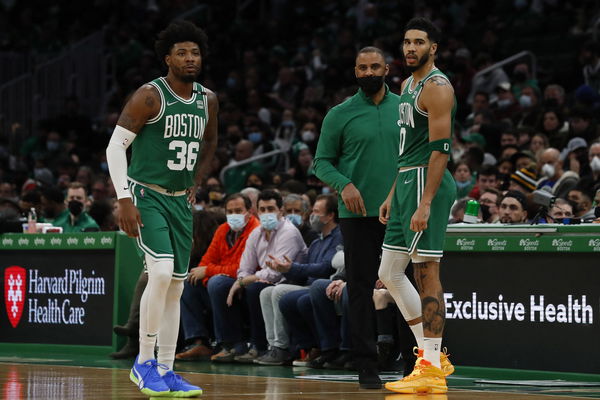 In recent weeks, the allegations involving Boston Celtics head coach Ime Udoka have sent shock waves across the NBA world. In his first-ever stint as a head coach, he took his team to the finals last season. So the expectations were obviously high for the upcoming season despite them losing the title to the Golden State Warriors.
However, because of the allegations, the Celtics suspended Udoka for one year for violating organization policy. At the time, it was alleged that Udoka was in an inappropriate workplace relationship with female staff.
ADVERTISEMENT
Article continues below this ad
Udoka and actress Nia Long have been in a long-term relationship. The couple announced their relationship publicly in 2010 and welcomed their son Kez Sunday Udoka. However, Long was not a huge fan of getting married. She once talked about her belief in getting married.
"Love is complicated, let's just start there," said Nia. "And then you start a marriage, which I've never been married. And there's a reason for that because I don't know that I need to say 'I do' to prove to you that I love you. But also, what does marriage really [mean]… that you own me now and I own you? I don't get that part."
The full extent of the Ime Udoka situation is still unknown
Ime Udoka and Nia Long were engaged in 2015. However, they decided not to get married. After the recent allegations of Udoka cheating, Long finally broke her silence recently. She thanked everyone, who are supportive of her during a time of dismay. The actress also asked for privacy when she and her family takes time to process the whole ordeal.
ADVERTISEMENT
Article continues below this ad
After the announcement of a one-year suspension was made, a lot of fans were confused. Many felt that the suspension was harsh, including some former players. And former NBA champion Matt Barnes is one among them.
WATCH THIS STORY –  Rappers Quavo & Take-off Drop Sensational Tribute to Michael Jordan and Kobe Bryant
ADVERTISEMENT
Article continues below this ad
Barnes took to social media and showed his frustration with the Celtics organization's decision. However, he soon retracted his stance about the whole suspension. Barnes claimed that after he posted the video criticizing the Celtics, he received a call. He added that the unnamed caller shared the seriousness of the situation. So he had to retract from his initial stance.
After his suspension, assistant coach Joe Mazzulla has been promoted as interim head coach. Mazzulla played college basketball for West Virginia University from 2006 to 2011. He declared for the 2011 NBA draft and went undrafted. So he began his journey as an assistant coach immediately. However, he only has three years of experience as an assistant coach in the NBA with the Celtics. Interestingly, he is two years younger than veteran forward Al Horford.
Edited By: Pritam Priyedarshi