Despite Stephen Curry Publicly Defending Him, Russell Westbrook Didn't Hold Back Against Warriors Disrespect
Published 03/18/2023, 4:06 PM EDT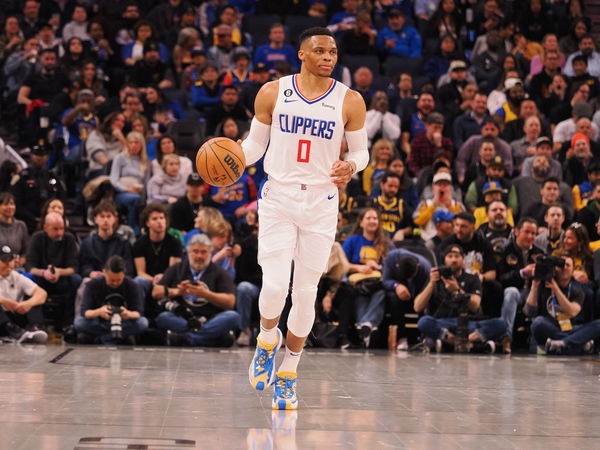 Stephen Curry and the Golden State Warriors lost to Russell Westbrook and the Los Angeles Clippers in a highly anticipated game between the two Western Conference titans. Despite the strategy used by the Warriors, the Clippers gained a one-game lead over the Warriors in the Western Conference standings in addition to tying the season series at 2-2. Westbrook made a crucial contribution that sealed the victory for his team.
Meanwhile, Stephen Curry commented on Russell Westbrook's performance.
Golden State Warriors' defense strategy
ADVERTISEMENT
Article continues below this ad
During a recent game between the Clippers and the Warriors, Russell Westbrook found himself on the receiving end of a defensive strategy that surprised many NBA fans. Draymond Green, one of the Warriors' top defenders, chose not to guard Westbrook when he was at the three-point line. The plan was to force Westbrook to shoot from beyond the arc, where he is not as strong a scorer as he is closer to the basket.
The strategy was a success. The Warriors easily won with Westbrook shooting just 0 of 5 from outside the arc.
After the game, when questioned about it, he merely said, "I'm free to do anything I want. that's fantastic for me. Thus, good luck to everyone who keeps doing it."
Russell Westbrook was asked about Golden State leaving him open.

Russ: "I can do anything I want. Which is great for me. So good luck to everybody who continues doing that." pic.twitter.com/1wnl97sjuS

— Joey Linn (@joeylinn_) March 17, 2023
Westbrook has encountered this kind of defensive strategy before, and it most likely won't be the last. But his response demonstrates his self-assurance and willingness to rise to any challenge that comes his way. While facing Westbrook, it will be intriguing to see how opposing teams alter their defensive schemes, as well as whether he can continue to modify his game.
Stephen Curry defends Westbrook
ADVERTISEMENT
Article continues below this ad
Following the game, Steph Curry expressed his admiration for Beastbrook.
He states, "One thing about Russ, no matter what people say about him or how he's playing, he competes. I know [the Clippers] love that about him. Every night he shows up and plays hard. That's something you can't teach. It's kind of a lost art these days."
ADVERTISEMENT
Article continues below this ad
Watch this Story: Kevin Durant Joining The Suns And Russell Westbrook Leaving The Lakers: 2 Trades Shaking Up The NBA World 
Russell Westbrook has been a terrific addition to the Clippers since his arrival, putting out strong efforts in each game. His contributions to the team are demonstrated by his averages of 15.5 points, 5.9 rebounds, and 7.5 assists. Westbrook's impact towards the Clippers' recent success is also highlighted by their 4-5 record while he was on the team. With Westbrook as the starting point guard, the Clippers have won four straight games after beginning the season with five losses. Westbrook's recent form have been essential to the team's accomplishments, and the Clippers will benefit moving forward by having him on the court.
Edited By: Debmallya Chakraborty