Devin Booker Flops Miserably After Being Called the Next Kobe Bryant- Stats Show Steep Fall
Published 07/12/2021, 3:17 PM EDT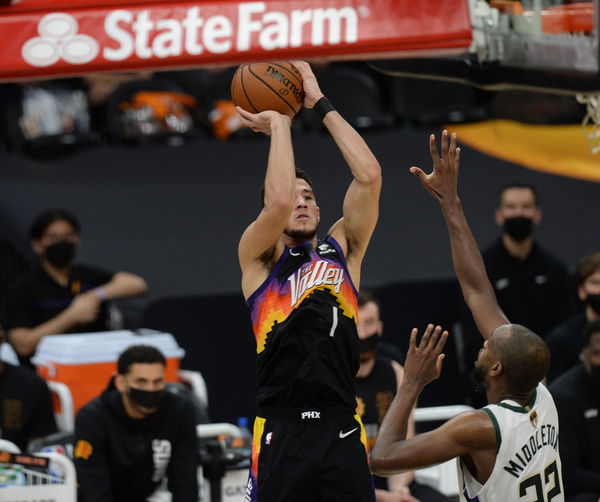 ---
---
Devin Booker has ridden through the eye of the storm with the Phoenix Suns in the past few years. But, this season he embarked on a mission with running mate Chris Paul, that now sees the Suns with a 2-1 lead in the NBA Finals!
ADVERTISEMENT
Article continues below this ad
In fact, his numbers this post-season right up to the conference finals, mirror those of none other than Kobe Bryant, during his title runs from 2000 to 2022.
League insiders map Phoenix's reign back to the bubble restart when a Booker-led Phoenix went undefeated in their last 8 regular-season games.
ADVERTISEMENT
Article continues below this ad
And with the acquisition of Chris Paul last off-season, the Suns looked legitimate title contenders, for the first time since 1993.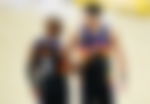 In fact, Booker in his first post-season put the league on notice, with Mamba-like performances in their journey to the WCF. Booker's averages of 26.3ppg/6.1rpg/4.7apg aligned almost perfectly with Bryant's 26.6ppg/5.8rpg/4.6apg in his 3rd championship in 2002.
This also led to the legendary Stephen A. Smith to anoint Booker as the next Kobe! And what's even more shocking, is that Laker legends Magic Johnson and Shaquille O' Neal agreed with that statement!
Is Devin Booker truly Kobe Bryant like?
DBook is a bonafide all-star, with a bright future ahead of him, make no mistake. While the similarities in the game, the work ethic, tenacity, and the mindset are striking, it is still premature to call the Suns star Kobe-like. And while both got drafted 13th almost 20 years apart, Bryant by his 6th season was a 2-time NBA champion!
And even though Book has brought the Suns a long way from the bottom 5 rankings in the league in the past few years, the NBA Finals stage is proving to be too big a stage for the young star.
His personal exploits in the Playoffs have significantly dropped to 22.7ppg/4.3rpg/4.7apg in the Finals, compared to over 27ppg/5.5apg in the first 3 rounds.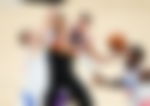 Portland back-court all-star CJ McCollum recently responded to the claims saying, "I think you need to allow him to continue to solidify who he is, what he is because he is special in his own right and to compare him to Kobe is just an unjust and unfair situation that you're putting him in."
Mambaesque?
Booker's game, which in fact closely resembles the Mamba's, will see him dominate this league in the future. But, given the evidence currently out there, Stephen A.'s statement remains an abject overstatement.
Following Book's sub-par finals performances in Games 1 through 3, Stephen A.'s claim didn't go down too well with fans, whose reactions bordered on the lines of –
ADVERTISEMENT
Article continues below this ad
Please do not ever compare Devin Booker to the great Kobe Bryant ever again.

— BGN (@BullsGotNext) July 12, 2021
Have these comparisons been overwhelming for Booker? If so, he needs to channel the Mamba Mentality which he displayed against the L.A. and Denver.
ADVERTISEMENT
Article continues below this ad
Watch this story – Giannis Antetokounmpo's Historic-42 Point Performance, Devin Booker Raining Threes, & Other Milwaukee Bucks vs Phoenix Suns Game 2 NBA Finals Highlights.