"Did a Deal with Sony… Let's Build a Starbucks": Magic Johnson Reveals the Start of His $620 Million Net Worth and Entry to Hollywood
Published 01/17/2023, 2:50 PM EST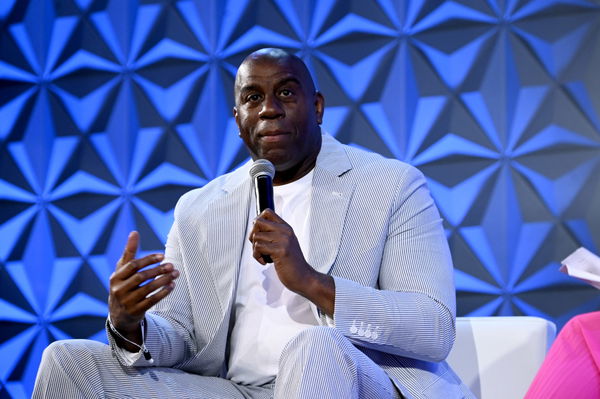 Earvin 'Magic' Johnson had a legendary NBA career, winning five championships with the Showtime Los Angeles Lakers in the 1980s. After being diagnosed with HIV, Magic had to retire early in 1991. However, his career finally came to an end after his last comeback stint with the Lakers in 1996. Since his final goodbye to basketball, Magic Johnson has established himself as a business mogul and a community leader. Recently, Johnson revealed a massive milestone that kickstarted his staggering $620 million empire. In addition, Magic also shared how he made an entry into the world of Hollywood.
Magic Johnson recently made an appearance on Showtime Basketball's All The Smoke podcast, alongside co-hosts Stephen Jackson and Matt Barnes. During the show, Barnes asked Johnson about how he transformed his success on the court into becoming a triumphant businessman. In response, Magic named the people that helped him gain business knowledge in order to become successful.
Magic Johnson reveals his first business investment
ADVERTISEMENT
Article continues below this ad
During an appearance on All The Smoke, Magic Johnson admitted to having no prior knowledge of business after the end of his NBA career. So he tried to surround himself with people who could teach him. Moreover, the 12-time All-Star credited former Lakers owner Jerry Buss, Creative Artists Agency's (CAA) co-founder Michael Ovitz, and Interim CEO of Starbucks Howard Schultz for mentoring him in business skills. Johnson reckoned that he tried to learn the basics of business from these successful businessmen. Later on, Magic used the knowledge for building some lasting infrastructure in the African American community. 
Johnson revealed, "So they gave me the knowledge that I needed so that then I could take it to the hood and build my business, but also put people of color to work." After getting all the information, Magic noticed the trend of going to the movies among African American families. The Los Angeles Lakers legend stated, "Once I got the information I needed, I started with the number one thing that we were doing back then with our family, which was going to the movies." 
Magic Johnson added, "So I did a deal with Sony, and I built Magic Johnson theatres because I did the research. We were the number one group of people going to the movies but there were no movies, you know, movie theatres in our community."
Luckily for Magic Johnson, the first decision towards building his massive fortune turned out to be a lucrative one. Johnson revealed that the first movie theatre he had built was among the top ten highest-grossing theatres in the nation. The move into the Hollywood world turned out to be great for Johnson, who took on another business adventure shortly after.
Magic brought Starbucks to the African American Community
ADVERTISEMENT
Article continues below this ad
During the show, Magic Johnson revealed that he went to Seattle after his movie theatre success.  The Lakers legend convinced the then-CEO Howard Schultz to open Starbucks in Black neighborhoods. Johnson shared that he made a huge deal with Schultz that brought the coffee chain to the Black community.
Johnson said, "We did a deal that's still unbelievable today, uh, where he allowed me to build 125 Starbucks in 40 different markets across the United States, proving people wrong because everybody thought it wouldn't work in the Black community."
ADVERTISEMENT
Article continues below this ad
WATCH THIS STORY – Luka Doncic Surpasses Lakers Legend Magic Johnson; Second Only to Oscar Robertson in Iconic NBA Record
However, the three-time Finals MVP pointed out that Starbucks did work in the African American communities after he made some interesting changes in the desserts.
Edited By: Satagni Sikder