'Did a Heck of a Job': Former Boston Celtics Teammate Reveals How Paul Pierce Was "Hell Bent" on Guarding Lakers Kobe Bryant in 2008
Published 12/08/2021, 8:41 AM EST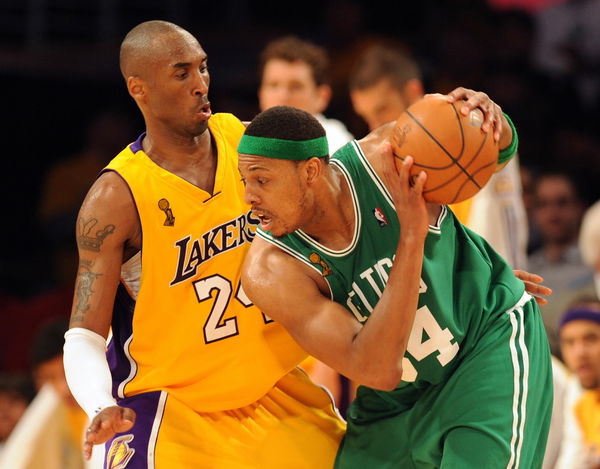 Paul Pierce will always be one of the unforgettable legends from the Boston Celtics. While his scoring abilities were always his trump card, despite that, he took on a more vigorous role for the sake of his team and that's guarding Kobe Bryant. And although many people believed that he couldn't pull it off, not only did he do the job well, but helped his team win the 2008 NBA championship, too.
Paul Pierce forced his way into going head to head with Bryant
The Los Angeles Lakers' Kobe Bryant and Paul Pierce have locked horns on several occasions. Each time, a battle worth remembering. However, neither of that would have been possible if Pierce wasn't adamant about defending Kobe. In an interview with 'The Athletic', former Celtics' Leon Powe revealed intricate details about how it all went down.
ADVERTISEMENT
Article continues below this ad
"I remember in the Finals, Paul was picking up Kobe damn near full court. Full court!" Powe said. "We got in a timeout, and we said, 'You don't have to pick up Kobe full court.' He looked at us and said, 'Nah! Nah! I got him! I got him! Don't need no help!' That's all he kept saying. He kept repeating, 'Don't help me!'", narrated Powe.
"But Paul was very insistent that, 'I want to guard these guys. I want to do this.'" Powe said. "Then he would say, 'I don't need no help.' We'd be inching over, and he'd send us back. We'd never seen P like that. He was just hell-bent on proving a point that he can guard Kobe, that he can guard for this team and do the necessary thing to win the championship."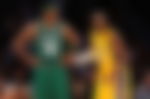 WATCH THIS STORY: A Broken Index Finger, A Torn Ligament & Other Injuries Kobe Bryant Endured But Continued to Play Through
Was Paul Pierce successful in guarding Kobe Bryant?
At the time, Kobe was the league's MVP when Pierce took this task upon himself.  And his desire to do so was but obviously motivation to prove himself what he could do against the NBA's best.
ADVERTISEMENT
Article continues below this ad
Powe further added, "He did a heck of a job on Kobe in the Finals. You ain't gonna stop Kobe. Nobody is going to stop him. But you can make it tough, and you can make him work, and I felt P did that. He picked up full court, and we ain't never seen Paul Pierce pick up anybody full court."
The Celtics ended up defeating the purple and gold in six games, ending their 22-year title drought. However, the Lakers were able to defeat the Orlando Magic in the NBA Finals next season. And finally, Kobe got his revenge when he defeated Boston in seven games to win the 2010 championship.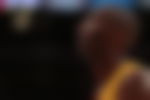 Pierce was on the verge of giving up on the Boston Celtics. He had struggled with them for years to get them as far as to the playoffs. But with Ray Allen and Kevin Garnett's, he knew that they could have the title they want. The Truth really outdid himself and the rest is history.
ADVERTISEMENT
Article continues below this ad