Did Kyle Kuzma Take a Subtle Shot at LeBron James By Picking Kobe Bryant Over Him?
Published 08/01/2021, 11:14 PM EDT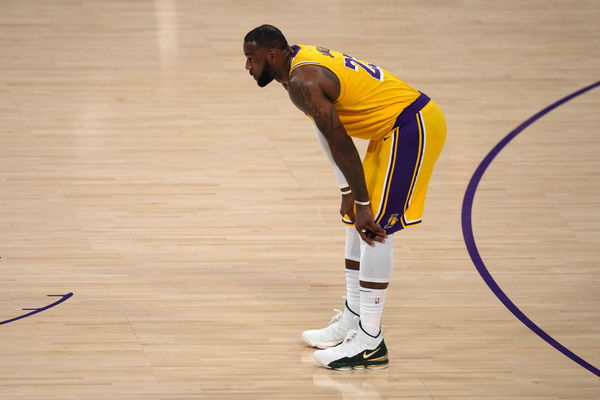 ---
---
The GOAT debate wave comes and goes. There is always someone or the other giving their opinion on who deserves the title more than the other. From Kobe Bryant, Michael Jordan, to LeBron James, Kevin Durant had also recently entered the competition for some. While everyone makes these comparisons with different criteria's in mind, Kyle Kuzma recently weighed in on this topic of discussion and it might shock some Lakers' fans.
ADVERTISEMENT
Article continues below this ad
Kobe Bryant is the GOAT
The Lakers are already making headlines because of their blockbuster trade that got them, Russell Westbrook. While some seem to be celebrating the trio that is ready to take the floor soon, Kyle Kuzma's exit was a consequence of this event. Kuzma's consistent disappointing production on the court had fans and the franchise furious. And after their early exit in the playoffs this season, they had enough.
ADVERTISEMENT
Article continues below this ad
So, the Lakers got Westbrook from the Washington Wizards by trading in Kentavious Caldwell-Pope, Montrezl Harrell, and Kuzma. It seems like the two haven't parted very well, as Kuzma's opinion on the GOAT debate has suddenly changed. He recently Tweeted about an incredible Kobe Bryant stat that explained his scoring exploits. The caption wrote, "greatest ever, no question."
Kobe's been part of the GOAT debate since forever. The Lakers legend has won five NBA championships with the purple and gold, so why is it surprising that Kuzma picked the Mamba? Well, because his stance was quite different before he was traded off from the team.
WATCH THIS STORY: Michael Jordan, Kobe Bryant & Other NBA Superstars That Have Stunned us With Their Dunks at Olympics
Did Kyle Kuzma subtly take a shot at LeBron James?
There have been a lot of instances in which Kuzma has indicated that his former teammate, LeBron James is the actual GOAT. But it seems like that's not the case anymore. Back in 2019, he Tweeted about Bron's 17th NBA season, explaining that he's the GOAT.
ADVERTISEMENT
Article continues below this ad
Even during an appearance on Hoops on Fox Podcast, he was asked about who he thinks is the winner of the 2018 NBA Finals. His response clearly showed he picked LBJ over everyone else.
"Um… Golden State. It's tough. It'll be interesting. I want to see how they do against Houston. I think Houston's had a phenomenal season. Bron is Bron. I'm never going to count him out, because he's the greatest player of this generation. No question. … It's hard to go against Kobe but, I mean, he's been to the Finals seven straight times," he stated.
James has won four NBA titles with the Lakers as well and his accolades justified Kuzma's stance. But what was this sudden change of mind? Was this his way of getting back at them for trading him away? Or was this genuine?
ADVERTISEMENT
Article continues below this ad