Did the Celtics Just Survive a Scare of Serious Injuries to Both Jayson Tatum and Jaylen Brown?
Published 05/02/2021, 11:43 PM EDT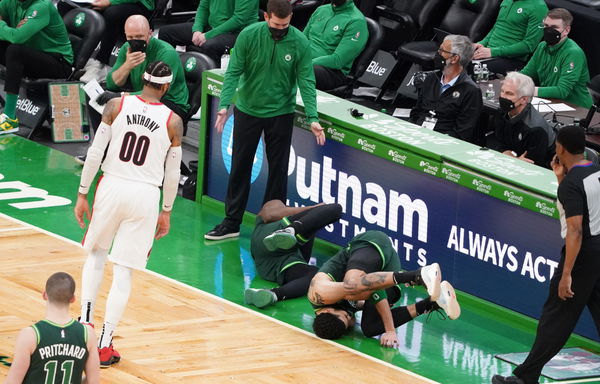 ---
---
The Celtics and the Blazers met in a desperate clash on Sunday night, where the latter came out as the ultimate winner. Both the teams sit on the #7 seed of their respective conferences and face the insecurity that comes with it. 
ADVERTISEMENT
Article continues below this ad
Just as the Blazers won the battle 129-119, the C's lost more than just the match. They witnessed a scary final sequence of the play, and that was the last thing the Greens wanted out of this clash. 
Jayson Tatum, Jaylen Brown, and a frightening collision 
ADVERTISEMENT
Article continues below this ad
During the clutch time, with under 45 seconds to go in the game, the two Celtics forwards went cruising into one another. The Blazers were leading 126-119 when Jaylen Brown rushed to steal an outside pass from #00 Carmelo Anthony towards #24 Norman Powell.
It was during this same fraction of a second when Jayson Tatum was screening #0 Damian Lillard and instead received a mistaken kick from his teammate. Take a look at what happened –
Prayers up for Jayson Tatum and Jaylen Brown, who both collided on this play. 🙏

Hopefully it's nothing serious

— Hoop Central (@TheHoopCentral) May 3, 2021
Mistake here trying to watch in real-time – was Brown's right leg that he couldn't put any weight on. Either way, awful moment for the Celtics to have their two best players collide like that. Hopefully they are both OK. https://t.co/NU8IHdMjrl

— Tim Bontemps (@TimBontemps) May 3, 2021
Now, the injury, from the looks of it, appeared painful as Brown used shoulder support to walk off the court. On the other hand, Tatum went out on his own but with a visible limping.
Now, the Celtics would not want to see any of these two names to sit out, even for one game. 
Evan Fournier said Brown and Tatum didn't seem particularly concerned with their injuries. Said he's guessing they're going to be good.

— Jay King (@ByJayKing) May 3, 2021
Read Also – 'He Didn't Win Immediately': Celtics Legend Defends Jayson Tatum With Michael Jordan Example
What are the stakes for the Celtics?
The Blazers' offense-heavy win over the C's exposed the blocking woes for the Boston-based franchise. Brad Stevens' men allowed 106 points for the Blazers' starting five and that cost them heavily, especially in the second leg of the game.
Although the C's were impressive from the three-point range, the 18 turnovers held them back. 
Now, ignoring the Celtics' easy upcoming game against the Magic, they have a tough week ahead. Also, they'd not want to close at #7 and risk facing Russell Westbrook's Wizards in the potential play-in clash.
So, the team will want their star forwards to play every single game from here. Jayson Tatum with his 26.4 average and Jaylen Brown with his 24.8 make up for 50+ points a game and the Greens desperately need that coming.
ADVERTISEMENT
Article continues below this ad
On a positive note, star forward Taco later in the post-game interview signaled that he is mostly well.
Jayson Tatum on banging ankles with Jaylen Brown: "We just collided and I guess he stepped on my foot and he fell on my leg. But (I) should be all right. We'll see after tomorrow. I was able to walk off the court by myself, so that's a good sign. I hope (Jaylen's) all right."

— Jared Weiss (@JaredWeissNBA) May 3, 2021
ADVERTISEMENT
Article continues below this ad
Do you think the Celtics can get back to the top six terrain? Help us know in the comments.