'Didn't Create the Hate': Hawks Teammate Explains Why Trae Young Shouldn't Be Blamed for Beef With Knicks Fans
Published 07/22/2021, 6:30 AM EDT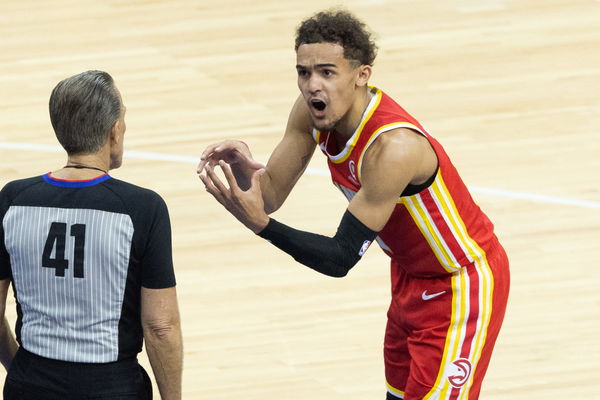 ---
---
If anyone had to pick the most entertaining playoffs matchup of this season, it's the New York Knicks vs Atlanta Hawks. And it isn't because the two teams made it a great battle. But because the Knicks fans and Hawks' Trae Young were having a cold war of their own. Trae missed no opportunity to mock Knicks fans, and while most considered it disrespectful, his teammate Kevin Huerter understands why Trae did what he did.
ADVERTISEMENT
Article continues below this ad
Kevin Huerter would do the same if he was in his teammate's shoes
ADVERTISEMENT
Article continues below this ad
Both the Knicks and Atlanta Hawks had an unexpectedly good run in the regular season. But once they were pitted against each other, Knicks fans tried to chew on the Hawks' especially their star player, Trae Young. He was the best player in their series and averaged 30 points per game despite all the bashing on-court he received from Knicks fans.
But Young wasn't one to keep shut. From his famous bow after a three-pointer to his shimmy and even some harsh words, Trae punched back in his own way. While some think his response was uncalled for, his teammate feels otherwise.
In an interview, Kevin Huerter came to Trae's defense and said, "We're at the highest level of our game. If you get into MSG, playing the Knicks in the playoffs, in the third possession of the game, the whole crowd is chanting 'F you Trae. I am not Trae, but if I had all those people chanting F you, the first chance I get, I am doing something back to the crowd. Kind of like an F you back."
WATCH THIS STORY: Trae Young's Bow, Larry Bird's Steal & Other Iconic NBA Playoff Moments
The Knicks fans poked Trae Young
Not only does Kevin believe in tit-for-tat, he thinks the Knicks fans were the ones who made the situation ugly. He explained, "I just feel like he didn't create the hate in that series. Right way, New York was on him. New York singled him out. Like 'we're going to try and get in this guy's head and we're going to try and flip him. Trae in that entire series talked the talk and walked the walk."
ADVERTISEMENT
Article continues below this ad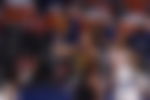 Huerter couldn't emphasize enough that there was never any beef between the two teams. So, it could have been clean if the Knicks fans wanted but they brought upon Trae's wrath on themselves. What are your thoughts on this controversial matter?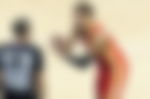 ADVERTISEMENT
Article continues below this ad
Trending Stories