'Different Responsibility': Lakers' LeBron James Laments the Absence of Key Starters on the Team
Published 02/23/2021, 4:30 PM EST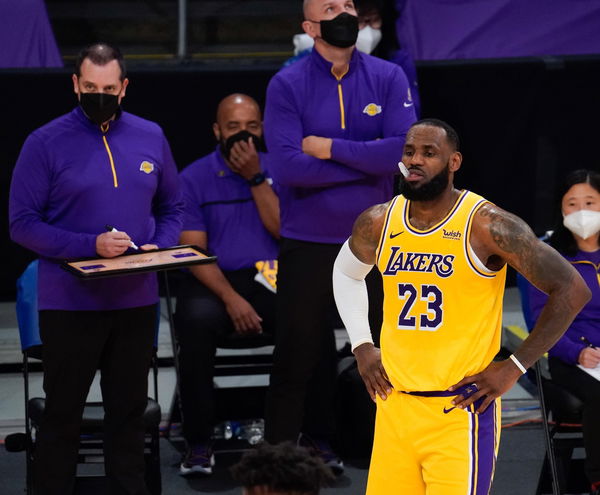 ---
---
LeBron James and the Los Angeles Lakers just faced a shock defeat at the hands of the Washington Wizards, and fans are unhappy with the result. A lot of it has to do with injuries, as the Lakers were without key starters, Dennis Schroder and Anthony Davis.
ADVERTISEMENT
Article continues below this ad
LeBron James gave it his all and racked up 31 points and 13 assists against the Wizards, but the Lakers still ended up facing defeat. During the post-match press conference, the 36-year-old was asked if the absence of point guard Dennis Schroder is affecting the team, to which he replied: 
"Well, it's a different responsibility. Obviously, when Dennis [Schroder] is on the floor, you know he's one of our primary ball handlers. When [Anthony Davis] is on the floor, he's one of our primary low guys where we give him the ball, we allow him to work," James mentioned.  
ADVERTISEMENT
Article continues below this ad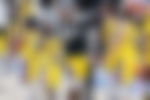 The Lakers are massively missing the services of Davis and Schroder, who are sidelined due to different reasons. Schroder has been missing multiple games due to COVID-19 contact tracing and is expected to miss the Lakers' upcoming fixture against the Utah Jazz as well. 
LeBron James hopes to compete with a healthy roster moving forward
LeBron James has been carrying an immense load on his back this season, just like any other year. The four-time MVP has to take up major responsibilities on his shoulders when other starters are injured, but it is taking a toll on the team as well. 
The absence of Dennis Schroder means that LeBron James has to act as the primary ball-handler on the team, but the four-time MVP has other priorities. "But I'd much rather our team be healthy and we play whole basketball than me having to go out and be the primary ball-handler," he said. 
"But right now this is needed because of how are we having some guys out, and it's needed for me to do that and I got to take responsibility for it. I can't have eight turnovers and I gotta make sure I put my guys in a position to be successful," added LeBron. 
ADVERTISEMENT
Article continues below this ad
The Los Angeles Lakers have lost all three games that Schroder has missed, and it denotes that there's too much load on LeBron. Anthony Davis' injury only adds to their woes, and the team desperately needs their players to stay fit for the second half of the regular season.
LeBron James is currently averaging 25/8/8, which is a remarkable stat-line for an 18th season veteran. However, James would know he needs to perform at a greater level to sustain the Lakers' success at this moment when they're hindered by injuries. 
ADVERTISEMENT
Article continues below this ad