'Disgraced Boston': Twitter Reacts to Kyrie Irving Stomping Former Team Celtics' Logo After Game 4 Win
Published 05/30/2021, 11:42 PM EDT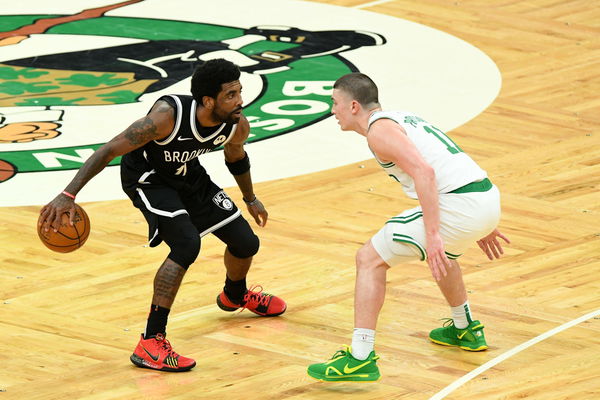 ---
---
The Brooklyn Nets just took a dominant lead over the Boston Celtics and are now 3-1 in the series. This will have the Celtics struggling to keep their head above the water and it seems like there is one player who is enjoying this win far more than anyone else. In fact, Kyrie Irving even did something after their win over the Celtics, as if he was gloating.
ADVERTISEMENT
Article continues below this ad
Kyrie Irving disrespected the Celtics logo?
Although it's fair to celebrate this win, what Irving did was still not well received by some fans. Irving's former team, the Celtics, have had some speculated animosity and what Irving does next does not really dismiss those assumptions but only makes it stronger.
ADVERTISEMENT
Article continues below this ad
After the win, Irving was seen wiping his show on the Celtics logo on the court. Right after this incident, Irving ended up being on the receiving end of another fan attack. A Celtics supporter was seen throwing a filled-up water bottle at the Nets star. Maybe he saw what Kyrie did? However, that's no reason for him to treat Irving, so the security instantly intervened and detained him.
After the game, Irving spoke up about the fans' rowdy behavior. He stated, "Fans got to grow up at some point. … We're not animals. We're not in a circus. Have some respect for the game. Have some respect for human beings. Grow the f*** up, and enjoy the game, it's bigger than you"
"Fans got to grow up at some point. … We're not animals. We're not in a circus."

KD speaks out against the fan who threw a water bottle at Kyrie Irving. pic.twitter.com/9GboIQLloi

— Bleacher Report (@BleacherReport) May 31, 2021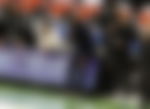 Fans on Twitter give their opinion on the incident
The incident sparked some chatter on Twitter and fans had a mixed reaction to it. Some were in support of what Kyrie did, some criticized the fan for overreacting, but some also were not happy with the seven-time All-Star.
@KyrieIrving why you stomp the logo like ? You soft bro go take two weeks off cry baby

— Brandon Lieu (@Brandon_lieu) May 31, 2021
Rough night on the court because the Nets are really good at shooting the ball.🏀

Rougher night still that Kyrie stomped on the logo.☘️

But roughest of all that the water bottle throwing fool acted a fool and disgraced Boston.🗑

Sorry, @KyrieIrving.👎🏻

— MercerJersey (@DTram87) May 31, 2021
Kyrie Irving officially my favorite player for ever after stepping and sliding on that fucking Celtics logo

— big jok (@yowellzz) May 31, 2021
https://twitter.com/gamebucs7/status/1399192453660524546?s=20
Would LOVE to hear Kyrie Irving's explanation for classless stomping of #Celtics logo. C's seemingly couldn't have made his time in Boston easier. Grousbeck, Ainge, Stevens, teammates…everyone went out of their way to ensure he had a positive experience, then wished him well.

— Adam Kaufman (@AdamMKaufman) May 31, 2021
Kyrie Irving: "I hope the Boston fans keep it about basketball"

Also Kyrie:

**Stomps on Celtics logo**

— Savage (@BOSTONSPORTSB) May 31, 2021
Did any reporter ask Kyrie Irving why he felt the need to be petty and stomp on the Celtics logo? Want to give that reporter credit. But if no one did, then shame on them https://t.co/KI5snz6yXg

— CelticsLife.com (@celticslife) May 31, 2021
Kyrie irving really disrespect the celtics lmao! He stepped on celtics logo and he drop 39 points 🤣🤣🤣💀💀💀

— GRLD32🏀 (@GRLDBV) May 31, 2021
NBA writers: league has gone soft

*Kyrie Irving walks on a logo*

NBA writers: the death penalty may not be severe enough

— temporary florida man (@jawn_rothstein) May 31, 2021
Kyrie Irving taking a stomp and wiping his feet a couple times like he was putting out a cigarette on the leprechaun logo at midcourt to end the game on the TNT broadcast.

— Trey Daerr (@TreyDaerr) May 31, 2021
ADVERTISEMENT
Article continues below this ad
What's the root cause of this tension between Irving and the Celtics? Well, Kyrie was part of Boston for two seasons but he signed with Brooklyn right before the 2019-20 campaign, despite claiming that he planned on re-signing with the Celtics only.
Apart from the stomping, Irving had a stellar night against the Celtics. He notched 39 points along with 11 rebounds. In fact, he didn't miss a single of his 11 free throws. Kevin Durant was no less, who added 41 points of his own to the scoreboard. For now, it seems like the Nets hold in control of this series. Can this incident light a bigger fire in the Celtics and will they be able to channel this anger to make a comeback?
ADVERTISEMENT
Article continues below this ad
WATCH THIS STORY: NBA Players That Got Into Brawls With Fans