"Disrespecting My Game Is Part of the Storyline": Kevin Durant Slams Charles Barkley Bringing Back on Going Feud
Published 03/18/2023, 2:50 PM EDT
Kevin Durant recently moved from the Brooklyn Nets to the Phoenix Suns in a highly talked-about transfer. He is a 13x NBA All-Star and is considered one of the greatest players in basketball. As accomplished and talented as he is, KD gets his fair share of flack every now & then. While his game and resume are criticized, Durant shows up on the court with his incredible set of skills and is known for showing the haters who he really is.
Among the many who criticize Durant, the most notable is Charles Barkley. An NBA legend himself, Barkley is often seen giving his opinion against the 2x NBA Champion. Although the trend doesn't seem to fade away any time soon, Durant put out his opinion on the criticism he receives and the possible motive behind it.
Different perspectives according to Durant
ADVERTISEMENT
Article continues below this ad
The 2x NBA Finals' MVP thinks that people's opinions are based on how they see the game and there is more than one way of doing so. KD sat down for the latest episode of The ETCs where he discussed the issue of perspective being different while looking at the same game. While talking about the "Bus Driver/Bus Rider" analogy, KD differed from the opinions of other people. The term basically means who takes charge of a team and who rides the wave of victory. He said, "There's no bus drive…why is that analogy even brought up for teams?"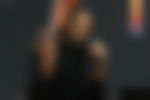 Durant believes that the analogy is only brought up while the conversation is about him. Having previously experienced the wrath of harsh criticisms, he understands the motive is to only bring him down. KD added, "We ain't on no f*cking bus. I feel like the only reason why that even kept traction was because that was about me specifically. Charles Barkley said that about me and like I said, disrespecting my game is a part of the storyline".
ADVERTISEMENT
Article continues below this ad
Durant and Barkley have locked horns off the court several times over the years. While on most occasions the argument is initiated from Barkley's end, KD has often put out his response in interviews.
History of the feud between Barkley and Durant
ADVERTISEMENT
Article continues below this ad
The relationship between the two greats of the game cannot be termed as beef because there has never been outright ill intent from either side. But it sure has been shaky for a long time now. Barkley once called Durant "an insecure player" while pointing out that he has never won a championship away from the Golden State Warriors. KD famously replied, "This clown does not have G14 classification to speak on the god". Barkley did, however, call KD "a great player" and a "good dude", but their feud is still far from over.
Watch This Story: Complete history of Kevin Durant-Charles Barkley feud after the Nets star called the 76ers legend a clown
Edited By: Debmallya Chakraborty