"Dog, They Pay Me to Shoot": Klay Thompson Decimated Draymond Green
Published 08/23/2021, 12:10 PM EDT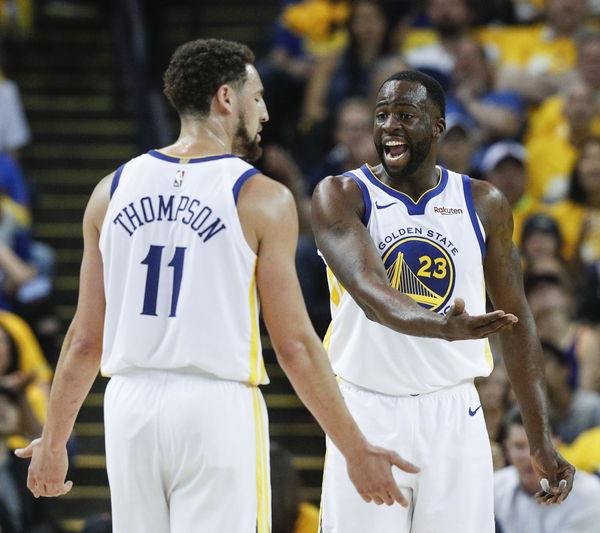 ---
---
The Warriors have one of the most dangerous backcourts in the NBA. With the duo of Stephen Curry and Klay Thompson, the Dubs have a lethal shooting duo who can shoot the ball at will.
ADVERTISEMENT
Article continues below this ad
While Curry is one of the best shooters, the league has ever seen, Thompson certainly makes a great case for being right up there. Given that he has missed the last two seasons, many NBA fans might have forgotten how lethal Klay was before his two long-term injuries.
ADVERTISEMENT
Article continues below this ad
When Klay Thompson destroyed Draymond Green
The 30-year-old Thompson prior to his injury was one of the best two-way players in the NBA. With his ability to clamp down on opposition's guards and consistently average more than 20 points, the 30-year-old was a superstar.
Thompson's carefree attitude has gained fans and critics over the years. Former Warriors' center Festus Ezeli in a recent interview shared one such instance. Ezeli said, "One game, I think we were up three with about 15 seconds left and somebody threw the ball to Klay. At this point, you just hold the ball, right? As soon as it touches his hands, Klay shoots it."
ADVERTISEMENT
Article continues below this ad
Ezeli added how Klay later destroyed fellow teammate Draymond Green. "I can't remember if he made it or not, but I remember his conversation with Draymond afterwards. Draymond was like, "Yo, what were you doing?! Why would you shoot that?" And Klay said, "Dog, they pay me to shoot the ball."
After missing the last two seasons with long-term injuries, Thompson is finally on his way to make his much awaited return to the league. Coming back into a very different Warriors' team it will be interesting how Klay performs this season.
ADVERTISEMENT
Article continues below this ad
While the 2017 Warriors with Kevin Durant are widely regarded the best team in Dubs' history, the last time the trio of Stephen Curry, Draymond Green and Klay Thompson played with each other, GSW had a record-breaking season with a record of 73 wins and 9 losses.
While expecting a record-breaking season might be far-fetched, if everyone is healthy, this Warriors team might make some waves in the Western Conference. How do you think will Klay Thompson and the Warriors perform this season? Let us know in the comments section down below.