'Doing Everything Imaginable': Bradley Beal Names Kevin Durant as the Toughest NBA Player to Guard
Published 05/07/2021, 2:37 PM EDT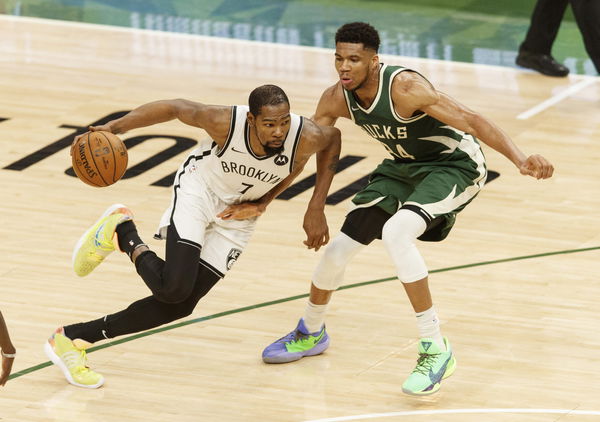 ---
---
Bradley Beal has played against some of the best players in NBA history. The long list of the top talents that he had to guard includes LeBron James, Steph Curry, and James Harden. But the toughest for him to ever guard is an offensive juggernaut – Kevin Durant.
ADVERTISEMENT
Article continues below this ad
There has never been anyone like the lanky seven-footer in the illustrious history of this game. NBA Insider Marc J Spears asked Beal to reveal the toughest player that's there to guard in the NBA. While he name-checked himself first, he then proceeded to give KD a special mention.
"I am gonna say me, but Kevin Durant. Kevin Durant is very tough to guard. Only because he's seven feet and doing everything imaginable," said Beal on 'On and Off the Court'.
ADVERTISEMENT
Article continues below this ad
He's not the only when to give Durant a mention in this category. Recently, Anthony Davis also
bestowed the same honor
on the Brooklyn Nets superstar. And it isn't without a reason, as KD has the ball-handling skills and three-point shooting of a guard while having the height of a classic center. There's nothing that he can't do offensively on the court.
Even Kobe Bryant could not 'figure out' Kevin Durant
The current players aren't the only ones who have a matchup problem with him. Kobe Bryant also could not figure out how to defend him before he hung up his boots in 2016.
On 'The Corp With A-Rod and Big Cat' show, the late great Mamba divulged on the progression of KD, from a raw talent full of weakness to an offensive iron man with no chip in his armor –
ADVERTISEMENT
Article continues below this ad
"That was the one that I retired without really being able to figure out what it is– how I can stop him. When he first came into the league, he was easy to defend because he couldn't go right and shoot. He shot kinda across his face so that was a weakness that he had… But now he's developed that so I retired not being able to figure him out."
The Nets superstar continues to terrorize the defenders on the court. In the post-season, when he will play at full throttle, he will take some stopping to do.
ADVERTISEMENT
Article continues below this ad