Domantas Sabonis Earns a Special Place in Indiana Pacers Record Books With a Unique Record
Published 01/06/2021, 11:42 PM EST
---
---
The Indiana Pacers continued their amazing start to the season with a 7 point win against the Houston Rockets. In a close game, the Pacers gained the W after another phenomenal performance by Domantas Sabonis. The trio of Sabonis, Oladipo, and Brogdon have elevated the team to another level in the first half of this season.
ADVERTISEMENT
Article continues below this ad
In fact, Sabonis was named the Eastern Conference player of the week for his efforts in week 1 of the season. Well, the 1-time All-Star is yet to slow down as he made history in today's game.
ADVERTISEMENT
Article continues below this ad
Sabonis finished the game with 22 points, 12 rebounds, and 4 assists, registering another double-double to his name. This was Sabonis' 8th straight double-double this season which earned him a place in the Pacers' history books. He has now become the first player in the organization's history to achieve this stat line.
Right now, the Pacers are 6-2 in their first 8 games of the season and look like one of the top teams in the East right now.
However, the question still remains – can they manage this form over the course of the entire season? Well, if Sabonis keeps up his game at the current level, they might actually pull off their best season in a while.
Can Domantas Sabonis lead the Indiana Pacers to a deep playoff run?
ADVERTISEMENT
Article continues below this ad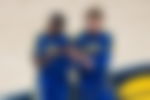 Over the last few seasons, the Pacers have consistently been a great team in the East. However, due to unfortunate injuries, they always suffer during the playoffs. Last season was the same for Indiana as Sabonis missed the entire postseason due to injury.
Additionally, their second superstar, Victor Oladipo, was also recovering from an injury. Thus, they couldn't perform at their best during the 2020 postseason. However, that's in the past; this year, the Pacers would like to overwrite that memory with a better one.
ADVERTISEMENT
Article continues below this ad
Domantas Sabonis will play a key role in their aspirations to make a long playoff run. What are your thoughts? Do you think Sabonis can lead the Pacers to an NBA title?