'Don't Do That': Jimmy Butler Warns Lakers After Getting Switched By Andre Drummond
Published 04/09/2021, 6:15 AM EDT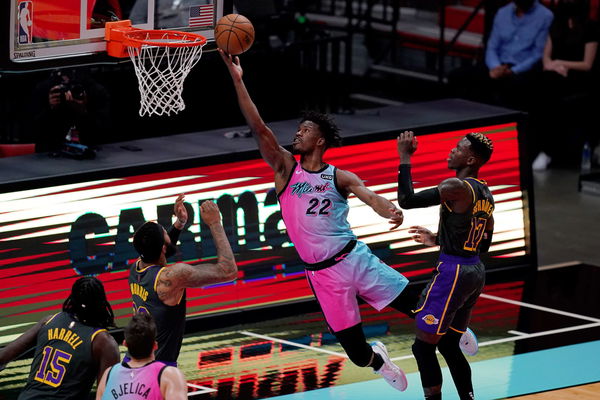 ---
---
The Los Angeles Lakers had to face yet another loss against their last season's NBA Finals rivals, in the absence of LeBron James and Anthony Davis. While the Miami Heat's injury-laden roster had dug a hole for them in the beginning that they're still struggling to get out of, the Lakers are facing the same issues now.
ADVERTISEMENT
Article continues below this ad
Looks like Miami took advantage of the under-manned Lakers and grabbed the 110-104 win. However, the highlight of the match was none other than Jimmy Butler getting furious at Andre Drummond.
Jimmy Butler gives a harsh warning
ADVERTISEMENT
Article continues below this ad
This was the sixth defeat out of the last ten games for the Lakers, who have slipped down in the Western Conference to the fifth spot. LeBron and Davis' absence has pulled them back to a 32-20 record.
Then there is Miami, which hasn't had an easy campaign either but is trying to not find themselves in the play-in tournament, standing sixth in the Eastern Conference with a 27-25 record.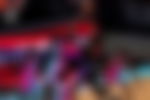 Nevertheless, the Lakers really tested the Heat's patience, despite not having Kyle Kuzma and Talen-Horton Tucker in the lineup. In fact, Andre Drummond gave Lakers fans a lot to be excited about. Although his debut against the Milwaukee Bucks didn't go as expected, he proved why he deserved all the hype surrounding him during the trade talks.
He showed dominance on the defensive end and grabbed 12 rebounds, which is exactly what the Lakers were looking for. But in the midst of performing his best, he seemed to have ticked off his opponent, Jimmy Butler.
Before dropping an effortless mid-range jumper, Drummond switched on to him, after which Butler said, "Don't do that." Butler showed his trash-talking and electric personality with this warning.
What went wrong with the Lakers?
While Drummond was grabbing attention, Kentavious Caldwell-Pope also stepped up and ended the night with a team-high 28 points and had a single turnover. The Lakers had 22 turnovers in total, from which the Miami Heat juiced out 33 points.
ADVERTISEMENT
Article continues below this ad
Dennis Schroder was not in his usual form. Otherwise, the game might have ended differently, or at least, on a closer note. Markieff Morris' ejection did not help their chances at a victory either.
The Lakers needed this win to gain some momentum before they faced their speculated title, contenders, the Brooklyn Nets. But it seems like they will have to make it through another tough night without their superstars.
Read also- 'If We Woulda Been Healthy' – Miami Heat Takes Massive Shot at Los Angeles Lakers on Official Twitter Account
ADVERTISEMENT
Article continues below this ad