'Don't Give a Damn': Bradley Beal Disapproves His Career-high Performance Against Sixers
Published 01/06/2021, 11:14 PM CST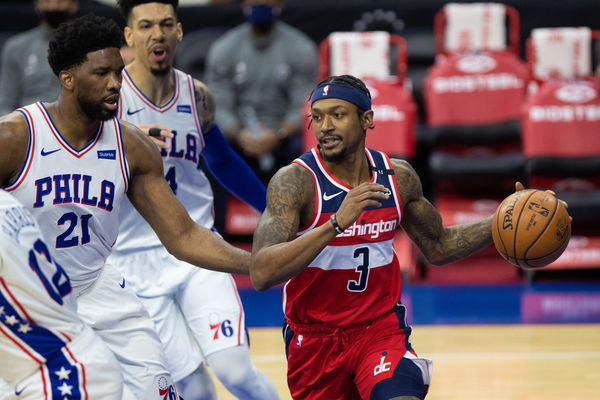 ---
---
They say an NBA player is as good as his team. One can boast individual achievements, but a genuine leader will always put his team's interests first. It is now increasingly evident that the Washington Wizards have that leadership sprouting in the respectable name of Bradley Beal.
ADVERTISEMENT
Article continues below this ad
The Wizards continued their dismal performance even as their franchise player outshined everyone. Bradley Beal broke his record of 55 points and touched the elite 60-point mark with his explosive offense. However, that too could not save the Wizards from the ongoing slump. 
ADVERTISEMENT
Article continues below this ad
A helpless and hopelessly disappointed Bradley Beal 
Bradley enjoyed a 32-point first half and then scored a phenomenal 25 points in the third quarter. He had already scored 7 three-pointers and 19/29 from the field by the end of the third quarter.
It appeared as if no force of nature could stop him from crossing 70 points. But as it turned out, he was 1/6 in the 4th quarter at one point and could add only 3 points to his tally.
Anyway, none of that would have mattered to the star had they won. Sadly, they didn't, and this left no reason for Bradley to celebrate.
Bradley Beal on dropping 60 in a loss tonight: "I don't count any of my career highs that have been in losses, so I don't give a damn. Throw them out the window with the other two or three I had."

— Fred Katz (@FredKatz) January 7, 2021
With this loss, Bradley also became the 20th NBA player ever to reach the 60-point mark and still face defeat. The star is now averaging 34.25 points in the 8 games out of which six ended in a team failure. 
Wizards are not learning from their mistakes
ADVERTISEMENT
Article continues below this ad
The players like point guard Ish Smith, center Robin Lopez, and forward Deni Avdija have been the non-performing assets this season. 
It can be assumed that the Wizards lost their game in the second quarter itself when they conceded 49 points. That was a huge blow, and it exposed the flaws in Scott Brooks' defense system. Moreover, they allowed Joel Embiid to unleash cannons on them in the last quarter. All this even affected the otherwise memorable performance from Beal.
In the post-game interview, a dejected Beal agreed, "They got a good team. We can't sit here and be naive to that. They have a really good ball club. But we've put ourselves in a position to win twice now that we play them… I gotta be better. It don't make no sense for us to give up 50 points in a quarter…We gave up 50 points in a quarter. That's unheard of. You can't win a game like that."
ADVERTISEMENT
Article continues below this ad
Which wizardry can now save this team from sinking into a deeper abyss? Please let us know your opinion in the comments.