'Don't Have to Be an NBA Champion': Russell Westbrook Gives Fitting Response to Stephen A Smith Criticism
Published 03/31/2021, 4:41 AM EDT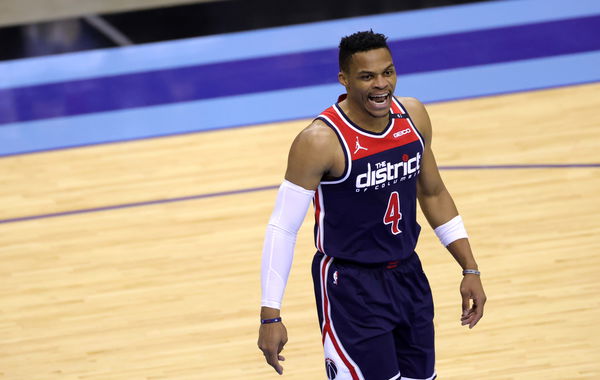 ---
---
Washington Wizards' guard Russell Westbrook is one of the most tenacious basketball players the NBA has ever seen. Rarely has the league seen a player of Russ' caliber laying it all on the floor for his team.
ADVERTISEMENT
Article continues below this ad
Ever since his move to the Wizards, Westbrook saw a pretty slow start to his time at Washington. But since the All-Star break, the 32-year-old has been on an absolute tear averaging 25.3 points, 12.4 assists, and 11.4 rebounds per game.
Russ put on an absolute masterclass in the Wizards' recent win against the Pacers. He put up an insane triple-double of 35 points, 21 assists, and 14 rebounds against Indiana. While the performance had its fair share of plaudits, some critics like Stephen A. Smith resorted to a rather skeptical viewpoint about the 9-time All-Star.
ADVERTISEMENT
Article continues below this ad
Smith criticized Westbrook for tanking his chances of winning an NBA championship despite playing with players like Kevin Durant, James Harden, Paul George, and others. While Stephen did raise valid concerns, questioning a player's legacy was unwarranted.
Russell Westbrook responds to Stephen A. Smith's comments
Westbrook certainly wasn't the biggest fan of the comments made by Smith. After his recent performance against the Hornets, Russ responded to the pundit's comments in a post-game press conference. He said:
"I sit back. I don't say much. I don't say I don't like to go back and forth about people, but one thing I won't allow to happen anymore is to let people create narratives and constantly just talking s**t for no reason about me, because I lay it on the line every night."
ADVERTISEMENT
Article continues below this ad
Westbrook added that just making it to the NBA had made him a champion. He said:
"I was a champion once I made it to the NBA. I grew up in the streets. I'm a champion. I don't have to be an NBA champion. I know many people that got NBA championships that's miserable, haven't done nothing for their community, haven't done nothing for the people in our world. And for me, man, my legacy, like I mentioned before, is not based on what I do on this court. I'm not gonna play basketball my whole life. My legacy is what I do off the floor, how many people I'm able to impact and inspire along my journey, man."
He further added, "That's how I keep my head down and keep pushing because it's very important that you don't let the negativity seep in because it's been like that my whole career, honestly."
ADVERTISEMENT
Article continues below this ad
Westbrook already has a Hall of Fame-worthy career with 9-All Star appearances, an MVP trophy, and two scoring titles. A championship might be a feather to his cap, but even without it, the 32-year-old will remain as one of the most explosive point guards the NBA has ever seen.