'Don't Know S–t About Me': Julius Randle Brushes Aside His Doubters After Signing Extension with the Knicks
Published 08/28/2021, 1:36 AM EDT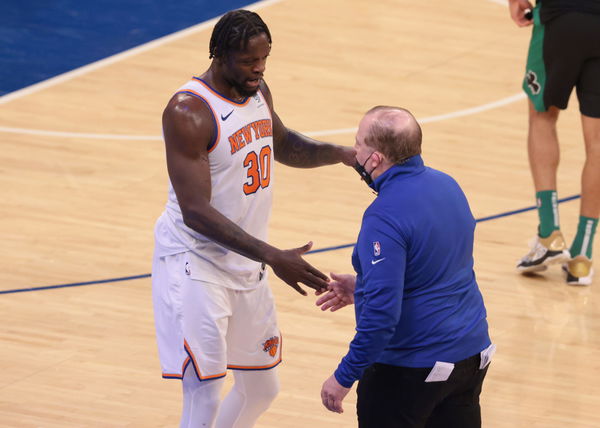 ---
---
Julius Randle made the Knicks great again. He breathed life into a franchise that was gasping underwater for two decades now. If not for him, the NY fans had nothing more than their distant love for the Brooklyn Nets to cheer for. 
ADVERTISEMENT
Article continues below this ad
When the Knicks met the Hawks in round 1 of their playoff series, it was their first postseason appearance in eight years. The MSG was on Cloud 9 and no matter how expensive, every ticket had a happy buyer. Such was the impact of the reestablishment of Knicks supremacy, and Randle's fresh contract was just an extension of that new beginning.
ADVERTISEMENT
Article continues below this ad
Julius Randle and his unequivocal love for the New York Knicks
The 27-YO man discusses the Knicks as if he is the global ambassador of the franchise. His vision is to build the Knicks into a championship-contending team and the 4-year $117 million contract extension was just an obvious move in that direction. 
In a recent interview, the All-Star player praised the Knicks organization and argued, "I don't think there's a better place to win a championship than here… I feel like I can help be a part of that, and I feel like when we signed this extension, it can help Leon [Rose] and all the other guys get pieces and continue to build the team."
The young leader could have placed his bet on yet another year and another possible inclusion in the All-Star squad. That might've added multi-million to his free agency money next year, but a loyal Julius chose against that.
He placed immense faith in the Knicks front office when he said, "I trust [William Wesley], I trust Scott [Perry], [Tom Thibodeau], all those guys that they're gonna give us the best possible chance to put us in the best position."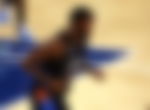 BeyBlade has some strong words for his doubters
Prior to joining the Knicks two years back, the star forward played alongside Kobe Bryant for two years and then with an inexperienced Lakers squad. A stint with Anthony Davis's Pelicans and he knew that he belonged nowhere else but in NY.
ADVERTISEMENT
Article continues below this ad
As he further added, "I've had stops along the way in my career where I haven't been happy playing. I understand both sides of it and how hard this game can be. How hard it can be being on a team where the chemistry is not right, and it's tough showing up to your job every night."
But he certainly enjoys his time with the Knicks and that is visible each time he is caught mentoring RJ Barrett and other youngsters. 
Sure, he failed to extend his regular-season form into the postseason, nothing that can deter the 6'8" forward-center from his ambitions. In his closing remarks, the Dallas native exclaimed, "People who say that really just don't know s–t about me. If you watched my career and you watched me play every year, I've gotten better. That just speaks to mindset and who I am as a player."
ADVERTISEMENT
Article continues below this ad
So what do you think, can Julius Randle help the Knicks reach the EC finals this season? Help us know your opinion in the comments section below.
Watch this story – Dallas Mavericks, New York Knicks, and Other NBA Teams That Have Made Jersey Blunder Over the Years