'Don't Push the Right Buttons': Charles Barkley Calls Out Bucks' Leadership After Game 4 Loss to Hawks
Published 06/30/2021, 2:49 AM EDT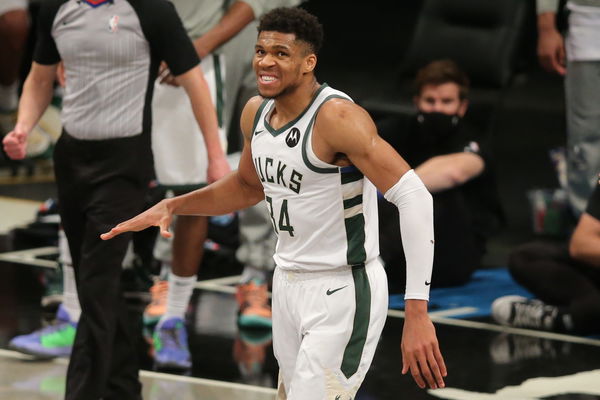 ---
---
The Eastern Conference Finals are underway as the Milwaukee Bucks face off a resilient Atlanta Hawks side. This series has been an absolute slugfest so far in the first three games as both the teams have had some pretty close wins.
With a 2-1 lead in the series, the Bucks were in a comfortable position entering game 4. Milwaukee became the overwhelming favorites as Trae Young was listed out for the game.
But the other Hawks' players definitely had other plans as they came out, all guns blazing. With the Giannis and Co.'s defense looking clueless yet again and Giannis leaving the floor with injury, the Hawks easily blew out the Bucks 110-88.
Tied at 2-2, this Conference Finals matchup between the Bucks and the Hawks got a lot more interesting and might be heading towards a blockbuster finish.
Charles Barkley slams Milwaukee Bucks' leadership for latest loss
While Milwaukee Bucks' did suffer due to a terrible knee injury to talisman Giannis Antetokounmpo, the weren't exactly impressive from the get go in the first place. Shooting inefficiently and having some complacent defense, the Bucks were dreadful.
Charles Barkley understandably slammed the Bucks. The Hall of Famer forward in a recent appearance at NBA on TNT, called out the Bucks' leadership for being unable to lead their team in pressure situations.
"100% leadership….. They come out tonight and 8 for 39. When you shoot that, we think it's a scrimmage? They thought it was game 53 of the regular season because it wasn't a must win. Their mentality last game, they are like this is a must win. Let's get this game. They came out and played fantastic."
"Before the game. I said I think the Bucks were going to win the series, depends on Giannis but you asked me. I'm taking the hawks tonight because they don't have killer instinct. They have good basketball their leadership — the leadership don't push the right buttons to hold them accountable. They doing stupid stuff that they did the last three years."
With teams like the Lakers and the Nets already out of the post-season, the Giannis and Co. are the odds on favorite to win the title this season. But with the latest injury to Giannis and the inconsistent play coach Budenholzer's team has shown, Milwaukee might be in trouble. Can the Bucks still win the championship?
ADVERTISEMENT
Article continues below this ad