'Don't Think My Brain Can Process'- Lakers' Center Andre Drummond Opens up on LeBron James Return
Published 04/29/2021, 9:20 AM EDT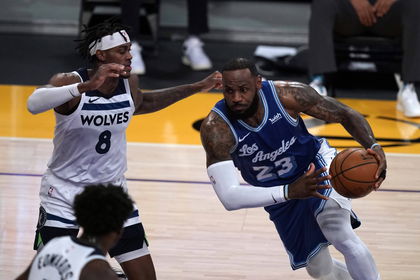 ---
---
LeBron James is the man that does everything on the court. Despite being in Year 18, LeBron is still one of the best floor generals and players in the NBA. He can score, shoot, has found his defensive ability again, and is probably one of the best playmakers in the NBA. Losing a player like him for an extended period would cripple any team.
ADVERTISEMENT
Article continues below this ad
While the Lakers haven't been crippled, they are struggling without the King. Even new center Andre Drummond knows it, as he detailed how excited he was for LeBron to return to the floor. Drummond and LeBron are yet to share the floor together, as Drummond joined the team after LeBron suffered his high-ankle sprain.
Lakers center Andre Drummond hasn't yet played alongside LeBron James, though that is expected to happen soon.

Drummond says his 🧠 "can't process the type of opportunities" that'll come from being on the court with LBJ.#LakeShow | #NBA pic.twitter.com/tkImpl0AdI

— FortyEightMinutes (@FortyEightMins) April 29, 2021
ADVERTISEMENT
Article continues below this ad
"You know what? I don't think my brain can process what kinds of opportunities would come with him being on the floor. Right now, we can't control him not being on there. We gotta work on how the guys are playing right now. We just got to worry about building chemistry and I'm sure good things will happen for everybody."
LeBron James: How much of a difference will his return make?
LeBron James will most likely return to the court with less than 10 regular-season games remaining. However, those games may be crucial if the Lakers can't start winning games without him. They are just 2 games ahead of the seventh-placed Portland Trailblazers.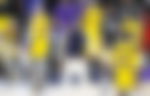 Falling into the play-in game would be a very dangerous proposition for the Lakers and they will want to avoid it all costs. If LeBron comes back soon and can stop the Lakers from losing games they should be winning, it will help create distance between them and the others. They are just 1.5 games ahead of the Dallas Mavericks, to who they recently lost a two-game series.
ADVERTISEMENT
Article continues below this ad
ADVERTISEMENT
Article continues below this ad
Adding the playmaking and floor-presence of LA will make all the surrounding players shine. Drummond will excel at having a playmaker like LeBron feeding him in the post. Ben McLemore will benefit a lot too and get more open jumpshots. The team has the pieces, but the one to put it all together has to be LeBron.