'Dr. J' Julius Erving Picks Philadelphia 76ers over Brooklyn Nets in Potential Playoff Battle
Published 04/10/2021, 5:55 AM EDT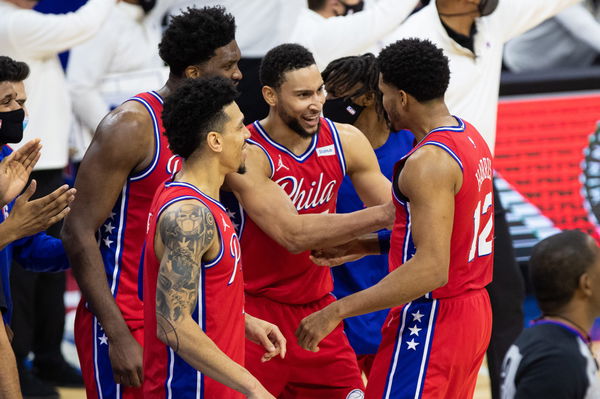 ---
---
The Philadelphia 76ers have had a wonderful season this year. After a disappointing playoff exit to the Boston Celtics, the franchise made definitive changes to the team. The 76ers brought in Doc Rivers as the new head coach, Daryl Morey as the new GM, and several new players like Dwight Howard and Danny Green, who had championship experience and pedigree. And now, Rivers is getting the best out of everyone, including star players Joel Embiid and Ben Simmons.
ADVERTISEMENT
Article continues below this ad
Dr. J picks Philadelphia 76ers to succeed
Former NBA Champion and multiple-time All-Star 'Dr. J' Julius Erving gave an interview recently for Danny Green's 'Inside the Green Room'. When asked about which of his former teams has an advantage over the other, Erving stuck with the title-winning team of his career.
ADVERTISEMENT
Article continues below this ad
He believes that the championship experience of Doc Rivers, Dwight Howard, and Danny Green will give them a major edge. Furthermore, the hunger and ambition of young players like Joel Embiid and Ben Simmons will be a huge factor.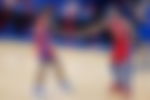 "First of all, (the 76ers) have an advantage coaching-wise based on experience with (coach Doc Rivers), in terms of championship experience that (Green has), that Dwight [Howard] has. And the ambition of Ben (Simmons) and Joel (Embiid), these guys are hungry now, they've been a part of what they call 'The Process' for several years, and it's time for The Process to bear some fruit.
76ers over Nets for Dr. J
Erving added that he would put his money on the line for the Philadelphia 76ers to beat the Brooklyn Nets. Confidence is key, according to Erving, and the 76ers need to maintain it. The rest will need to be done on the court.
ADVERTISEMENT
Article continues below this ad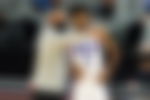 "I'm betting my money on Philly … Ws mean confidence. It's not cool to be overconfident, but it's very cool to be confident. So you need to maintain that confidence and get out there and perform, that's the way I see it."
ADVERTISEMENT
Article continues below this ad
Can the Philadelphia 76ers beat the Brooklyn Nets in the playoffs? Both teams will enter the playoffs with strong title ambitions. However, only one team can reach the NBA Finals. One thing is sure – both teams will scratch and claw to make sure they get a chance to walk away with a chip.