Draymond Green Destroys Karl-Anthony Towns With a Brutal Reality Check for Ja Morant
Published 05/11/2022, 11:30 AM EDT
The Golden State Warriors have gotten a comforting lead between them and the Memphis Grizzlies. They now lead the game series by 3-1. The Dubs now need one more game to qualify for the Conference Finals. The Grizzlies fought hard in game 4, unlike in game 3. Draymond Green in his podcast mentioned how contrasting the two games were from the Warriors' perspective, even though the Grizzlies were without Ja Morant. In the end, the Grizzlies fell short by a margin of 3 points.
Stephen Curry led with 32 points for the Warriors and guided them to victory with four free throws in the end combined with a Draymond Green block.
ADVERTISEMENT
Article continues below this ad
The Warriors swept off Grizzlies in game 3 as they won 142-112 in an absolutely commanding fashion. Despite Ja Morant being the top scorer, the Warriors contributed from everywhere. The trio Stephen Curry, Klay Thompson and Jordan Poole were all on target in a convincing victory to make it 2-1. However, it was a different story in game 4. Where in game 3 they scored 140 or more points in the playoffs for the first time since 1967, game 5 saw one of the worst 3-pointer shooting from Warriors which is a sort of their specialty.
Draymond Green talks about game 3 being the complete opposite of game 4 except for the result
Draymond talked about game 3 first and also took a not-so-subtle hit at Karl-Anthony Towns' Minnesota Timberwolves.
He said, "One thing that I thought was beautiful in that game 3, was we were up 20 points. I know what the conversation was when they huddled up. We've been here before. We know what it takes let's go out here and let's get back in this game and win the game. And Ja Morant came out playing like that. They were up 20 points. Ja started to go on his rampage and scoring every play. I think he looked up like wow I'm starting to go crazy. He had a couple of those Ja layups that only Ja makes. And he looked up and they were down 25."
ADVERTISEMENT
Article continues below this ad
WATCH THIS STORY: 5 Draymond ejections.
"That was big for us because that was to show them, this isn't the Minnesota Timberwolves. You're no longer playing that team. This is the Golden State Warriors. This is championship level basketball, this is how we do it. And it was it was beautiful to see. We went on to score 142 points and win the game, far cry from the 101 points that we scored tonight." He said about game 3.
 Green also mentioned how Jaren Jackson Jr was absolutely unstoppable in the second half. That's why the Warriors suffered. He heaped praise on him, as they practically could not find answers to stop him from scoring with the ease with which he was doing it. Dray also brought up the Ja Morant injury and said that he hopes to see Ja recovering as soon as possible because it is always sad to see someone get injured and that too a superstar like Ja Morant. Along with the best wishes, he also ridiculed the notion that said Jordan Poole had triggered the injury. He said that Ja was already feeling his knee long before the play with Poole happened and the injury was not because of that.
ADVERTISEMENT
Article continues below this ad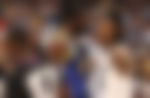 The game is now the Warriors' to lose. They would hope to win the next game with the reported absence of Ja Morant from the next game as well. Whereas the Grizzlies would hope to win one and get Ja back to surge for three consecutive wins in the series.