Draymond Green Has a Lot to Say About Luka Doncic and Team USA Critics
Published 08/08/2021, 8:00 AM EDT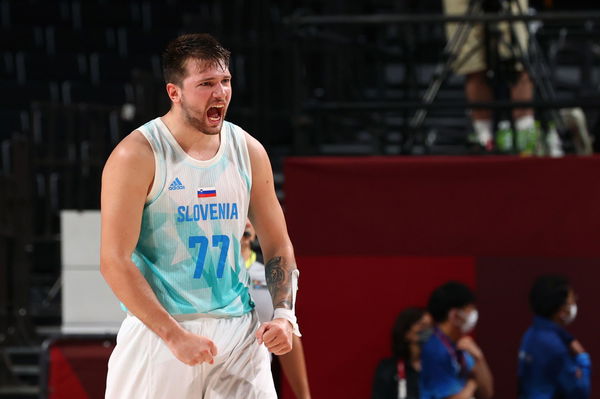 ---
---
Almost everyone had lost all faith in Team USA's ability to clinch their fourth consecutive basketball gold at the Tokyo Olympics. And why wouldn't they? The USA had a rocky start, losing two of their exhibition games, along with their opener against France. However, their fate quickly turned around after that, and the USA ended the tournament with the gold medal. But some NBA players are still furious at those who critiqued Team USA. So, Draymond Green is one of those who have spoken up about it, that too against Kendrick Perkins, while also praising Luka Doncic.
ADVERTISEMENT
Article continues below this ad
Draymond Green defends Team USA while praising Luka Doncic
Perkins is known for some of his hot takes. It was just a while back that he made a bold prediction that foreign players, especially Luka Doncic, are starting to dominate the game of basketball more.
ADVERTISEMENT
Article continues below this ad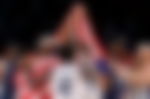 However, Green, who hardly ever gets involved in such matters, could not let this slip by. After Team USA won another gold after their victory against France in the Tokyo Olympics, Green could not stop himself from clapping back at Perkins. Yet, he made sure that he didn't disrespect Luka Doncic and showered praises on him as well.
He wrote, "Luka nice as hell!!! Like Super nice! One of them ones for real. Now Carry the hell on! Kendrick Perkins. You thought you were on to something when we dropped one."
Kendrick Perkins was also under fire from Kevin Durant
Not only that, but Perkins also showed absolutely no confidence in Team USA's chances of winning the gold this time. And for obvious reasons, this did not sit well with Draymond Green and even Kevin Durant.
So, on Instagram, the two went live to answer back to all those doubters, especially Perkins. In fact, Draymond was brutally honest and said, "Kendrick Perkins, you talk a lot of s—. A lot of s—. Act like you're American."
ADVERTISEMENT
Article continues below this ad
However, Perkins continued to stretch this further with a response of his own. He first congratulated team USA for its accomplishment, but then told Green that he will continue to speak his mind as and when he pleases.
ADVERTISEMENT
Article continues below this ad
Well, Perkins isn't wrong. A lot of these international players have risen to become superstars over the past few years. But yes, saying that they are now dominating the game, is too much. Isn't it?
WATCH THIS STORY: Kevin Durant Leading the Way, Zach LaVine Dropping Some Incredible Dunks & Other Team USA vs Australia Semifinals Highlights