Draymond Green, Paul Pierce and Others React to Phoenix Suns Landing Game 1 Against Denver Nuggets
Published 06/08/2021, 12:43 AM EDT
---
---
It is a battle of the once so-called underdogs of the Western Conference. While the Phoenix Suns are coming out of a brilliant first-round victory series where they defeated the defending champions, the Lakers, the Denver Nuggets knocked the Blazers out of the title run in six games. This is the first time in 11 years that the Suns have won a series in the postseason. And it seems like they plan on maintaining this momentum as they sealed game 1 of the semifinals against the Nuggets.
ADVERTISEMENT
Article continues below this ad
Phoenix Suns triumph over Denver Nuggets in Game 1
The Nuggets vs Suns battle was an intense one as both went back and forth in maintaining the lead in the game. It was an entertaining watch since the league's young superstars locked horns, with Nikola Jokic battling for Denver and Devin Booker for the Suns.
ADVERTISEMENT
Article continues below this ad
The game was head to head until the third quarter when the Suns managed to take a 10 point, and this happened without Booker being the lead scorer of the team. Mikal Bridges added 23 points along with DeAndre Ayton's 20. After suffering from injuries, Chris Paul seems to now be coming back to his stellar form, and he had a whopping 9 assists.
Looked like the Suns did a good job in containing Jokic, who finished the night with just 22 points to his name. The Denver Nuggets' performance slowed down considerably in the second half, which caused the Suns to seal the win. Thus, it was game over at 122-105, and of course, the Twitter world had its own reactions to this gripping matchup.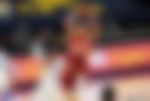 Nikola Jokic vs Devin Booker
ADVERTISEMENT
Article continues below this ad
Jokic is the favorite to win the MVP this season and with good reason. Not only did he average 16.4 points, 10.8 rebounds, and 8.3 assists in the regular season, he also did not score less than 34 points in five out of the six games against Portland.
On the other hand, is Devin Booker, who is responsible for crushing the Lakers' fans' dreams of a second straight title. His 47 point performance is what buried the purple and gold, along with his brilliant supporting cast.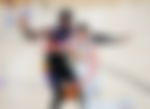 Undoubtedly, this is a battle between these two superstars which makes this matchup even more interesting. With the Suns up by one game, will Jokic be able to rally back and tie the series? Or will the Suns show them who is boss and end up taking a 2-0 lead?
ADVERTISEMENT
Article continues below this ad
WATCH THIS STORY: Moments When LeBron James' Legacy Was on The Line But he Fought Back