Draymond Green Reveals the Extreme Steps Warriors Took to End His Feud With Kevin Durant
Published 08/19/2021, 1:25 AM EDT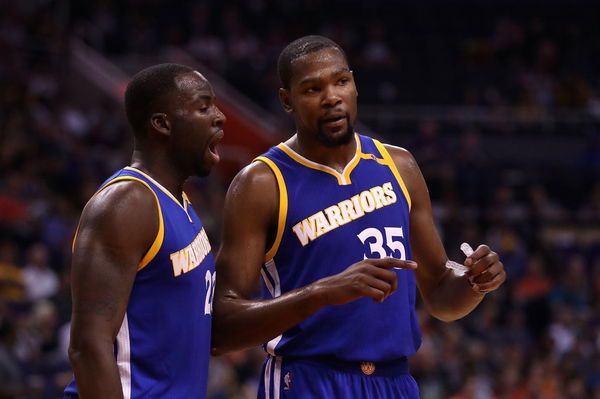 ---
---
The Golden State Warriors had one of the best teams in the last decade. With the big three of Kevin Durant, Steph Curry and Klay Thompson alongside a defensive beast like Draymond Green, the Dubs were an unstoppable team.
Going all the way to the Finals for three seasons in a row, this Warriors team won two championships in a row. If not for injuries to KD and Klay in the Finals, the Dubs could have had a possible three peat.
Draymond Green details how desperate Warriors were to end his feud with Durant
Draymond Green is one of the most polarizing stars in the league. While there is no doubting the quality he brings in for the Warriors, Green is often the loudest voice in the locker room and speaks his heart out to anyone.
One such instance happened between Dray and KD. This feud between the two stars was considered as the main reason why Durant made the decision to part ways with the Warriors organisation.
In a recent one-on-one interview the two stars revealed some more details about the same. Green detailed how the Dubs wanted him to apologize in the first place. "They tried to tell me, 'You need to apologize.' And I told them, 'I'll talk to K, but y'all aren't going to tell me what I need to say.' And, you know, they went on for an hour and 45 minutes talking, saying a bunch of bulls**t."
Green added, "So we met the next morning, and they said, 'All right, you slept on it. You ready to apologize?' And I told them right then and there, I said, 'Y'all about to f**k this up.'"
The veteran defender added how the Warriors eventually suspended him for a game. "They told me right then and there, like, 'We're gonna suspend you for this game.' I laughed in their, literally laughed in their face…. "I said, "Well, either I'mma laugh in your face, or I'mma cuss you the f**k out."
This was certainly a game changer for the Warriors organisation. Given all the talent they had, the Dubs possibly could have won more championships if KD wouldn't have left. But the Dubs still have a talented side led by Steph Curry. Do you think the Warriors can win another trophy in the next few years?