Draymond Green Takes a Subtle Dig at Giannis Antetokounmpo After He Avoids Guarding Kevin Durant in Game 5 Loss
Published 06/16/2021, 2:51 PM EDT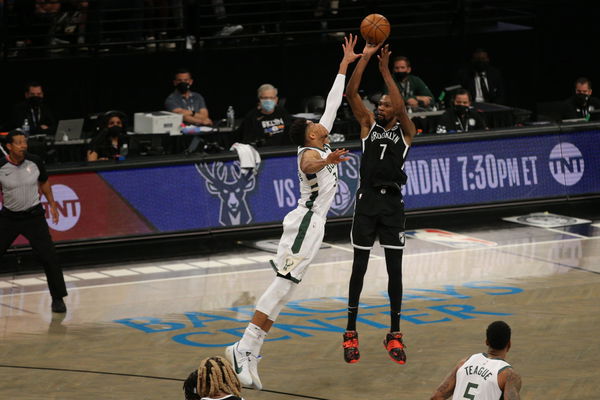 ---
---
The Brooklyn Nets faced off against Milwaukee Bucks in the fifth game of their second-round series of the Playoffs. With the series tied at 2-2, the short-handed Nets hoped that their superstar Kevin Durant could carry them to a victory.
ADVERTISEMENT
Article continues below this ad
It wasn't as smooth sailing for Durant and Co. at the start of the game though. With Giannis Antetokounmpo and his band of speedsters firing on all cylinders in the first half, the Nets looked out of sorts and fell to a 16-point deficit at the end of the first half.
But the Nets rallied to a massive comeback in the second half. With Durant scoring 31 points in the last two quarters of the game, the Nets were too much to handle for the Bucks as KD and Co. won the game 114-108.
ADVERTISEMENT
Article continues below this ad
Draymond Green slams Giannis Antetokounmpo for not guarding Kevin Durant
While Durant put up a magical performance with 49 point triple double, many questioned the inability of the Bucks' defense to limit the Nets.
Despite having quality defenders in Jrue Holiday and PJ Tucker, the Bucks simply had no answer for Durant and Nets' free flowing offense in the second half.
Given how so many players struggled to guard Durant, many questioned why former Defensive Player of the Year and 2-time MVP Giannis Antetokounmpo didn't guard the 'Slim Reaper'.
While players like CJ McCollum and others questioned Giannis, Warriors' forward Draymond Green took a rather subtle dig at the 'Greek Freak.'
In a recent tweet, Green reacted to a tweet, claiming that Dray would willingly defend the best players on any teams.
ADVERTISEMENT
Article continues below this ad
This was certainly a subtle dig at Giannis for not attempting to guard KD. Antetokounmpo guarded Durant 2 times in the entire game and didn't let him score in a single possession.
While this might not have been the case, if the 'Greek Freak' would have defended Durant, we might have seen more some more competition in the shots KD took.
ADVERTISEMENT
Article continues below this ad
With the series in the Nets' hands right now, the Bucks need to put on a defensive clinic in Game 6 if they want to advance to the Eastern Conference Finals. Will Giannis and the Bucks step up or will Durant and Co. close it out in 6 games?