Draymond Green's Divisive Michael Jordan Claim on Ja Morant Breaks NBA Twitter Amid Ugly War of Words
Published 05/08/2022, 11:30 AM EDT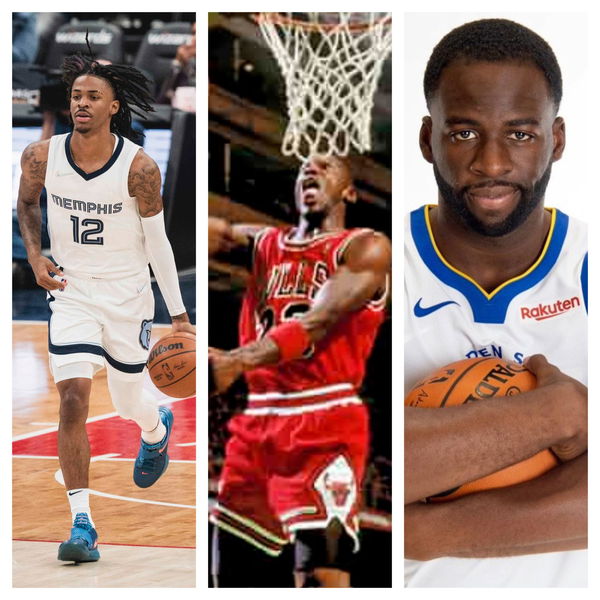 Golden State Warriors star Draymond Green is one of the fiercest competitors in the NBA. The Warriors won game 3 against the Grizzlies with a scoreline of 142-112 and took a 2-1 series lead. 
The Memphis Grizzlies won game 2 on the back of an amazing performance from Ja Morant. In 41 minutes, he scored 47 points and matched his playoff high. By doing so, he became just the third player under the age of 23 to have multiple 45-point playoff games. And joined the elite company of LeBron James and Kobe Bryant.
Ja Morant also hit some wild shots in game 2, which landed some Michael Jordan comparisons on social media. And Draymond Green, who has noticed the comparisons, has shared his opinion. 
ADVERTISEMENT
Article continues below this ad
Draymond Green on @JaMorant's finishes in-game 2:

"Some of the finishes that he had in that game, I saw some of the comparisons to Air Jordan. It was absolutely incredible the 1 where I went vertical did what he did & went underneath that was just 1." #Grindcity #DubNation pic.twitter.com/QyYMxNupif

— Landon Buford (@LandonBuford) May 7, 2022
While speaking for his podcast 'The Draymond Green Show', Green said that he saw the Air Jordan comparisons on social media. And said that Ja had some incredible finishes in that game. He was in awe of how Ja went underneath Green in mid-air to finish a shot. Green said, "…You just gotta take your hat off to him. It was an incredible play…".
Morant can consider this as a huge compliment coming from a playoff rival. Or is it something of a mind game from Green? 
Memphis Grizzlies vs. Golden State Warriors heating up
In game 1 of the Conference semi-finals against the Grizzlies, Green was ejected for a flagrant 2 foul on Brandon Clarke. And Draymond couldn't believe the call and made a scene in the court. But the Warriors still won the game. 
And after the game, Draymond Green went straight to his podcast and shared his disbelief about getting ejected. But getting ejected in a playoff game for a hard foul isn't new to Green.
Then, in game 2, there was another incident that overshadowed Ja Morant's impressive display. Dillon Brooks was ejected from the game after committing a flagrant 2 on Gary Payton II. The foul resulted in Payton fracturing his elbow and is expected to miss at least three weeks.
And Warriors' head coach Steve Kerr was not a happy man. He made some harsh comments about Brooks' foul and said it was 'dirty'. He also said that Dillon Brooks has 'broke the code' which is not to injure anyone.
Ja Morant's injury
In game 3, Ja Morant left in the fourth quarter after a knee injury and did not return. After the game, Morant was seen limping to the team bus. And Jordan Poole was seen grabbing and pulling Ja's right knee during a scramble. 
ADVERTISEMENT
Article continues below this ad
WATCH THIS STORY – Does LeBron James Have a No Trade Clause?
ADVERTISEMENT
Article continues below this ad
So Kerr's words backfired when Morant tweeted 'Broke the code'. However, he deleted it later.
As things are heating up, this could prove to be one of the best playoff series this year.